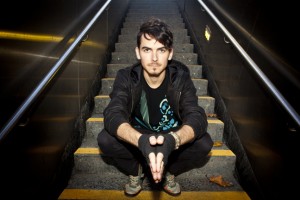 The Scene: It is mid February in Denver and the Winter time blues are starting to creep in. The constant flux between sixty-degree blue-sky days and bone chilling wind swept twenty-degree days is becoming tiresome. Coupling that with a recent lull in live music activities I was hankering for a Saturday night out on the town with good friends and stiff drinks. What better place than Cervantes', my second home, to indulge. It is rare for a show to have three artists that I know and frequently listen to but last Saturday was one of those nights, so I got there early and stayed late captivated by the unique West Coast grooves of Eskmo, Andreilien, and Russ Liquid. Anticipation had been building throughout the week and it was coming to a head as I walked into the balmy, warm embrace of Cervantes'.
Russ Liquid: Russ is becoming a big name in the dance music scene by presenting a different take on electronic music. He not only uses his computer, synth, and midi with a deft hand, but he also injects melody and harmony into his music with the use of a live trumpet. Granted, I am a sucker for any live brass instruments, especially in a small room where you can almost feel the sound and passion coming out of the bell of the instrument. Russ's trumpet chops and his vibrantly goofy stage presence had me captivated within the first few minutes. I slowly worked my way from the sound booth to the front of the crowd, drawn by the future bass grooves. It is clear that Russ has a deep understanding of music from the sampled piano, flute and saxophone that flows within the thick complex electronic elements. The music was light, bubbly and fun; almost acting as glass of Champagne or Prosecco whetting the palate for three more hours of deep psychedelic tunes.
Andrelien: Andrelien is the yin to Russ Liquid's yang. While Russ dances wildly and viscerally to his sounds; Andre is stoic, focused and nearly mechanical when he is on stage. To be able to see the two back-to-back was a real treat. Andrelien (formerly known as Heyoka) has been a prominent fixture in the Denver electronic scene for at least a couple of years. I almost always take the opportunity to see him perform and indulge in the paradoxical nature of his music. On one hand his music seems absurd, not following any of the typical rules for music production, but on the other it all seems to fit together in an almost mathematical sense. The music has an intensely complex, bass driven, extraterrestrial glitch. It just keeps on going, songs blend together seamlessly into one long chain of controlled chaos like diving headlong into a fractal zoom.
Adreilien's music had changed since the moniker shift. Heyoka's music was like a cosmic carousel ride while Andre's music is more Dub influenced. Classic stabby Dub keys, snares, and drum sounds provide the backbone for his hyper-glitched synth, alien babble, and bass lines. The sound was sinus rattling and was the impetus for much head bobbing.  Near the end of the set I was beginning to lose interest and my focus on the music strayed. It was still moving quickly and was technically sound, but my auditory palate had been blow out by too much glitch.
Eskmo: Eskmo was the enigmatic and eclectic music producer who would be performing the headlining duties on this particular evening. His music can range from grinding mechanical found sounds to soaring harmonic songs such as "Cloudlight." This wide swath of ranges leaves a lot of possibilities for where his sets can go. He is a performer in the truest sense of the word, especially in electronic music. Two of his main performance elements (Native Instruments Machine and a Novation midi-controller) are pointed towards the crowd pulling back the curtain of what is actually happening on stage. Live vocals and sound recordings are also incorporated into the set, making for a layering of found sounds, synthesizers, live recording, looping and deep churning bass. The live sound recordings add a whimsical element that always makes me giggle. He pulls out roofing shovels, pop cans, paper, milk crates, 2X4's, and electric drills. All of those "instruments" provide fills and extra layers of complexity. It's innovation, performance art, and comedy all rolled up into one, and personally, I love it.
There was an air of lightness in the room, the energy was positive and the dance floor was teeming. People were all smiles around me, immersed in the melodic spiritual groove. Eskmo throws in little tid bits of vocal clips providing mantra's to go along with his sets. Phrases like "everything springs from the same source" and "the war is not a physical war, it is a mental war," resonate throughout the crowd. The music is certainly spiritual and somehow feels ancient. Steady pounding and panning bass surrounds you as it rattles your core.
Of all the times I have seen Eskmo I was most impressed with this performance. Before it seemed like he was taking on too much while on stage; singing, running visuals, live drumming, and mixing. At times the set could be bogged down. Not this time though, the hour and a half set flew by and I was left wanting more. That's my sign of a good show when the last act is done and the house lights come on I am not content to go home. I just want more. From 10pm to 2am Cervantes' Ballroom was filled with progressive and futuristic bass music. All of the artists who performed are worthy of some attention as they will be continually pushing the boundaries of the EDM scene.
Energy: A-
Musicianship: B+
Sound: B+
Stage Presence: A-
Set/Light Show: B
Overall: A-