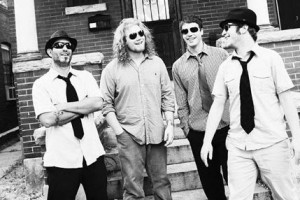 Photo by Lisa Siciliano
Why You Should Go: Make no mistake, the Fox Street Allstars reek of the roadhouses and West Texas honky-tonks of the Deep South that inspired their signature sound.  The band brings an all-out-party to every show by pouring their hearts and souls into every note.  No one really has any idea where front man Jonathan "Skippy" Huvard channels his soulful, whiskey soaked vocals and frenetic stage presence but the result is a blistering powerhouse of sound.
Saturday night is their official album release party for their sophomore effort, Tough Talk.  Tough Talk was recorded over the summer of 2012 at Scanhope Sound in Littleton, CO and engineered by Josh Fairman (Kinetix). The album features Joe Tatton of The New Mastersounds on organ, pedal steel by Grammy-award-winner John Macy and The Black Swans on backup vocals. The album is a rich roller coaster of roadhouse blues with a super-sized helping of funk, rock and soul.
If their opening slots on multiple national tours with funk legends The New Mastersounds are any indication, the FSAS are a band that is poised to break through into the mainstream at any moment. There's a reason why artists like Papa Mali, Robert Randolph, Brian Jordan, Nigel Hall, Stanton Moore, Tony Hall, Corey Henry, The Motet, George Porter Jr., and others have sat in extensively with the band: musicians realize these guys have serious chops and the sound is some serious fun.
Venue: Larimer Lounge, 2721 Larimer Street, Denver, CO – 303.291.1007
Doors:
8:00 PM
*Price:
$8.00 (ADV)
$12.00 (DOS)
PURCHASE
$15.00 (ADV w/ CD)
PURCHASE
*All times and prices are gathered from other sources and we are not responsible for mistakes or inconsistencies. They are intended only as guidelines. Please, always call the venue if you desire the most accurate information possible.