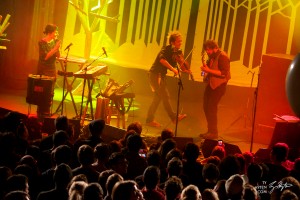 Photos by Ty Hyten
The Scene: The Bluebird filled in slowly Tuesday night yet ended up being just eight tickets shy of a sell-out. The nondescript crowd of 25-35 year olds was well mannered, attentive, and courteous the entire evening. This is not to say they were bored, the packed house danced and smiled as they basked in the high energy coming from the unique show on stage.
Opener: Plume Giant.  Plume Giant is a Folk-Pop trio that met at Yale and graduated this past May. The three piece is two fiddles, a guitar, and keyboard, with the three musicians occupying any combination of these instruments interchangeably. Their harmonies were instantly likeable and I found myself wondering how three people who fit together so well ended up meeting. Songs ranged from traditional Americana to somewhat of a quirky Head and the Heart sound. The three are no strangers to Colorado, having stayed out here long enough to play a stint of fourteen small shows last year. I have a feeling they'll be back through on a headlining tour soon enough.
Kishi Bashi: The music of Kishi Bashi, the stage name of Virginia's Kaoru Ishibashi, is a circus of imagination and melody. His critically acclaimed debut album 151a is great, but before Tuesday night I imagined most of the string orchestration was product of a glossy studio environment. Wow, was I wrong. The way Ishibashi masterfully wove lush string parts through his violin and a platter of pedals at his feet immediately let anyone who hadn't seen him before know what a large part of the soundscape he is on 151a.
For most of the night Ishibashi was sandwiched between Elizabeth Ziman on percussion & keys and Mike Savino on Banjo. Both Ziman and Savino sang back-up beautifully and displayed a range of creativity with their instrumetns in line with Ishibashi's. Savino slammed a beat on the head of his banjo with the same bow he used to non-traditionally draw long chords from it. The three played together with a collective charisma that translated into smiles from the audience. Ishibashi looped violin, vocals, and beat boxing seamlessly throughout the set. Rather than allowing the parts to stack into an overwhelming wall of sound, Ishibashi pulled pieces in and out creating a defined and melodic vision. Several times during the evening the rest of the band stepped off stage and Ishibashi single handedly built full soundscapes ranging from energetic to wandering fairytales.
While shows at the Bluebird can often be sparsely decorated and dimly lit, the set Tuesday night was simple but really added to the experience. Wooden trees stood on the stage in front of a backdrop with white lines. The lighting was colorful and dynamic, and a few bells and whistles like fog and a bubble maker added texture to an already interesting performance.     The audience was remarkably respectful and attentive the entire night, at times standing in awe and other times dancing along. Ishibashi mentioned multiple times how impressed he was with the number of people who crowded into the room. His last visit to Denver was a solo show at Larimer Lounge but his current tour has been spotted with several sold out dates.
The high-water mark of night came for me as the crowd stomped their feet and moved to "Bright Whites." Ishibashi ended the song with another beatbox loop. They rounded out the main set with a killer take on "It All Began With a Burst." Loud stomping accompanied a quick return to the stage for the encore which Ishibashi started with a solo cover of U2's "With or Without You." He announced he would be moving the party to Mescal after the show, and I after such a fun night I wrestled with the notion of work and decided to pass but I'd love to hear from anyone who made a late night of it. The second song of the encore was a raunchy original rap song, "Just the Tip," which was an unexpected laugh before he closed with a wonderful "Manchester" that was simple and haunting.
Energy: A
Musicianship: A
Sound: A
Stage Presence: A
Set/Light Show: A-
Overall: A