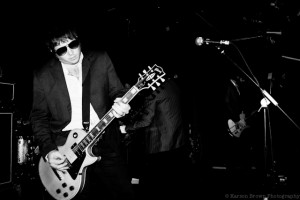 Photos by Karson Brown
The Scene: Chock-full and literally stuck to the goo lined floors, a flannel and leather wearing group of fans with trucker hats and lots and lots of Pabst Blue Ribbon cans filled the Larimer Lounge Tuesday night. The crowd was impatient to see Colorado's own In The Whale and the eccentric Electric Six.
Opener: In The Whale. The house was packed to gills to see the set of the homegrown darlings, In The Whale. The heavy, lo-fi, throwback vibe and sarcastic, cool guy lyrics make this band so damn appealing to all types of music lovers. Local rockers Nate Valdez on guitar and lead vocals & Eric Riley on drums make up this big sounding, hard rocking Indie band. Their performances of "34-28-32," "Girlfriend," and my favorite song of theirs, "Heels," all really captured a taste of what In The Whale can offer: undiluted rock. This band has a unique likeability about them as they are at once everyday guys and unruffled rock stars; it's a perfect mix for a group that could, and should, make it big.
Electric Six: Lead singer Dick Valentine (aka Tyler Spencer) and the rest of the refreshingly unusual band Electric Six took to the stage at the Larimer Lounge like Rock and Roll veterans. Valentine, in an ill-fitting suit, informed the crowded room like a grizzled lounge singer with a pocket full of one-liners that they had played at the Larimer nine times and that it felt like home.
The dialed in guitar riffs, thundering drums and Electronic kicks here and there gave the band's New Wave, Hard Rock sound a little contemporary pop. Irreverent, calloused yet humorous lyrics kept the crowd listening and singing right along to hits like "Gay Bar" and "Danger! High Voltage" from their 2003 album Fire. Valentine's voice was unpredictably amazing throughout the night, but especially great on "Crazy Horse" and "Down at McDonaldz." His vocals resembled an Arena Rock God from years past but I couldn't quite put my finger on who it was.
Towards the end of the show Valentine asked the crowd to sit on the floor to "conserve energy." Yes, the floor of the Larimer Lounge, the same floor that had restrained the treads of my shoes like a fly trap. And yes – they did it, nearly all of the show goers sat on the sticky gunk frosted floor…now that is some talent from the man behind the microphone.
After nearly fifteen years as a band, nine albums and a freakish underground cult-like following of mainly 30-40 something's, I'm reluctant to say that this was my first time experiencing Electric Six up-close and personal. In fact, until last year I didn't even know who they were. I had heard a lot of hype about this over the top six-piece band including that they were one of the most exhilarating, strange, amusing groups on tour today and they were even better live because of the tongue in cheek, saucy approach to the show from front man, Mr. Valentine. I'm happy to report that they lived up to the hype.
Energy: A
Musicianship: A
Sound: B
+
Stage Presence: B-
Set/Light Show: C-
Overall: B+
Karson Brown is Colorado native, local concert photographer and travel photographer. An Art Institute of Colorado gradate, she has a strong background in photography and design. With a passion for nearly all genres of music, Karson has the vision and love for performances which is infused in her written word and photographs. Karson's connection and roots in Colorado keep her grounded and involved in local events and concerts.