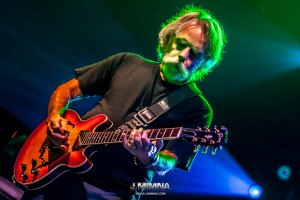 Photos by Jim Mimna
Grateful Dead founders Bob Weir and Phil Lesh laid siege on the Colorado Front Range this past weekend with their band, Furthur.  The 4-night run of shows started with a single, intimate performance at The Ogden Theatre in the heart of Denver, an extremely difficult ticket to obtain, and then moved up to the  much larger 1st Bank Center in Broomfield where no one would be shut out.  I was there to capture a visual taste of Furthur's musical fair the first night at 1st Bank to share with you.  Bon appetit!
SETLIST
Set One: Hell in a Bucket, Dear Mr. Fantasy, Good Morning Little Schoolgirl, It Must Have Been the Roses, I Need a Miracle > Bird Song, The Promised Land
Set Two: Jam > Jack Straw, Shakedown Street > The Mountain Song > The Other One > Scarlet Begonias > Fire on the Mountain, Dear Prudence, Not Fade Away
Encore: Knockin' on Heaven's Door
Free audio from the show (thanks to Rob O'Brien for the recording):
http://archive.org/details/furthur2013-02-22.ak40
Capturing life in various forms is what I do. I consider myself an archivist by nature. It is not a career choice that I consciously made, but it is something that has called me. I strive to freeze a moment in time with every frame, a moment that can retell its story with each viewing, forever. I also have a deep passion for music and have been photographing and recording live music for years. Capturing the energy and magic of a live performance in a photograph is one of my passions. In addition, I enjoy photographing in a wide variety of settings, from wildlife scenes to family portraits and everything in between. I am a lover of the earthscapes that we see all around us every day, both natural and manmade, and aim to make unique images that do justice to their beauty. Where others see darkness, I see streaks of light through long exposures. I shoot a very wide variety of subject matter including individual/family portraits, event coverage, landscapes, live concert/performance, HDR, product and commercial photography, architectural, weddings, food, and editorial photo journalism. With artistic expression, I aspire to create visual art that speaks volumes.