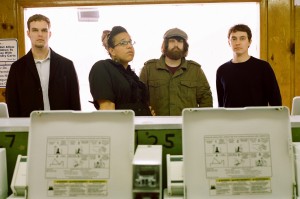 Why You Should Go: Muscle Shoals-inspired, Athens, Alabama-based quartet the Alabama Shakes formed in 2009 around the talents of Brittany Howard, Zac Cockrell, Steve Johnson, and Heath Fogg. Originally simply called "The Shakes," the band's not-so-subtle blend of fiery blues-rock and hard-hitting Southern soul has drawn comparisons to the Black Keys, the Drive-By Truckers, the Detroit Cobras, and even Sharon Jones & the Dap Kings.
The story of the Alabama Shakes begins in a high school psychology class in Athens, Alabama. Brittany Howard, who had started playing guitar a few years earlier, approached Zac Cockrell and asked if he wanted to try making music together.  Steve Johnson worked at the only music store in town, and Howard knew he played the drums.  The trio soon went into a studio in Decatur to record some of the songs they were working up, and this proto-demo found its way into the hands of Heath Fogg, who asked them to open a show for his band, which they agreed to do—on the condition that he play with them. Up and coming is an understatement for this group that is selling out venues around the country.
With his acoustic Blues-Folk sound and timeless soulful voice, singer/songwriter Michael Kiwanuka has been favorably compared with the likes of Curtis Mayfield, Terry Callier, and Van Morrison.  With Michael Kiwanuka, it's all about the voice. A voice that he describes as "hitting straight through to the core" with direct, emotional songs about love, yearning, comfort and belonging. It's a voice that built him a following via MySpace and small London gigs, and led Paul Butler from The Bees to invite him to the band's Isle of Wight studio to lay down these introductory tracks from what promises to be a major new British singer/songwriter.
Venue: The Ogden Theatre, 935 E. Colfax Ave Denver, CO 80218 – 303-832-1874
Doors: 7:00 PM  Showtime: 8:00 PM
*Price:  $36.50
SOLD-OUT (Try Craigslist)
*All prices are gathered from other sources and we are not responsible for mistakes or inconsistencies. They are intended only as guidelines. Please, always call the venue if you desire the most accurate information possible.