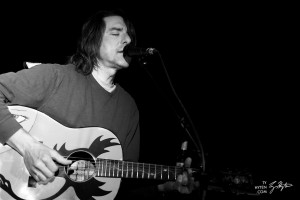 Photos by Ty Hyten
The Scene: A blizzard hangover didn't stop a group of flannel-wearing fans of Alt-Country Rock band Drive-By Truckers from making their way to the Larimer Lounge last Sunday afternoon. Following his Saturday night solo show on the same stage, tickets for DBT's lead guitarist Mike Cooley's BBQ show were in high demand.
It was cold and wet outside, but folks warmed up fast thanks to a great selection of draft beer and friendly smiles at the old bar North of downtown. What's become a staple for some on Sunday afternoons, the Larimer's BBQ concert series provides music fans with the best kind of Sunday Funday.  I think it's worth mentioning that everyone packed into the sold-out show was looking good, and almost everyone had a beer in their hand. It might have been cold outside, but it was evident this crowd was ready to heat things up and have some fun. Who better to have up on the stage than a guy from Alabama with a quick-witted tongue and a penchant for whiskey.
Mike Cooley: While the Larimer Lounge already gives you a chance to saddle up close to the stage for an intimate experience with musicians, Cooley turned the intimacy up a notch with stories about everything from how rough it can be to transition into home life after being on tour, to drug-addled rehearsals back in the 90s, to an admission of being drunk while conceiving his children. And if you weren't at the show, take Cooley's suggestion and Google "champagne hand job," a lyric included in "Gravity's Gone" that he didn't realize would later show up as a terrifying phrase in the Urban Dictionary. Not one person was shocked by these off-color stories, because they're part of what has made Drive-By Truckers so relatable and fun for almost two decades, and are what's fueling the huge fan base of Cooley's solo career.
After commenting on the equal weirdness of waking up to snow and playing a show at 4 o'clock in the afternoon, Cooley kicked things off with "A Ghost to Most," one of the wildly popular singles from DBT's 2008 studio album Brighter Than Creation's Dark. If you weren't at the show, it might be hard to imagine Cooley pulling the song off due to the fact that John Neff's pedal steel playing on the album is what set this song apart, but trust me when I say he did. The song maintained its country roots through Cooley's gritty voice and sorrowful eyes, and the crowd erupted when the song came to an end.
Throughout the evening, Cooley led us through stories of his career and home life, and not one person's eyes seemed to leave the stage when his fingers touched the guitar strings. The biggest roar came at the end of "Where the Devil Don't Stay," a Drive-By Truckers song included on Cooley's first solo album, The Fool on Every Corner. Again, Cooley's natural ability to express sincere emotion and grit with simply his voice and his guitar is impressive, particularly on a song with such multifaceted lyrics. Another crowd favorite was "Shut Up and Get on the Plane," a feisty song that could be influenced by a Merle Haggard or Willie Nelson hit, featured first on DBT's Southern Rock Opera album and now also found on Cooley's solo album.
A handful of DBT songs were covered by Cooley on Sunday, including "Birthday Boy," "One of These Days," "Self Destructive Zones," and "Panties in Your Purse," the last one of which Cooley explained was inspired by a girl at a show in Tuscaloosa, who told a story that made no sense to him. At times it seemed like we were a part of a VH1 Storytellers show, every sound-bite from Cooley adding to the experience and making our music-packed Sunday Funday pretty damn entertaining.
The two men behind me sang the lyrics of every single song and after Cooley finished his encore and glass of whiskey, I overheard the men agreeing this was the best solo show they'd ever heard from Cooley. A true testament of the intimate Larimer Lounge and the welcoming nature of Denver music fans, maybe a 4 o'clock show on a Sunday ain't such a bad idea.
Energy: B+
Musicianship: A
Sound: A
Stage Presence: A+
Set/Light Show: C-­­­
Overall: A-
After growing up in Missouri listening to vintage records of The Allman Brothers, Carly Simon, and Stevie Ray Vaughan, I was hooked to the live music scene and the contagious sounds of guitar licks and soulful lyrics. After moving to Colorado, I've been contributing to Listen Up Denver! as a freelance photographer and writer. I've also started a side project, KellYeah Photography, which gives me the opportunity to pair my passion for live music with my creativity and love of being around people. Aside from photography and writing, I'm an avid hiker of Colorado 14ers and a beer enthusiast.