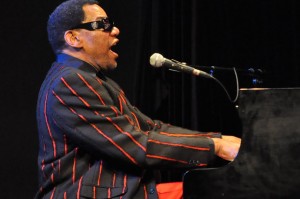 All Photos by Tim Dwenger
The Scene: For those of you who haven't been to Dazzle Jazz, do yourself a favor and get down there one night.  It is, without a doubt, the best listening room in Denver.  While their schedule focuses primarily on Jazz they do feature blues bands and recently have even featured sets from up and coming Denver Jambands Kinetix and Fox Street Allstars.  It's an intimate little room with pretty good food and a wide selection of local drinks, both of which you can enjoy during the performances.
When Henry Butler took the stage last night, there were probably about 100 or so people in the room and everyone had their listening ears on.  Aside from the occasional whisper between couples, or from a mom to her son, the room was focused on the music for the duration of the 80 minute set of New Orleans inspired piano tunes.
Henry Butler: First of all, it is always amazing to me to watch someone who doesn't have the benefit of all five senses perform as if they have a sense that most of us don't.  Stevie Wonder, Ray Charles and now Henry Butler all fit into that group for me.  All three are blind, Butler since birth, and all three play (or played) piano as their primary instrument.  It is probably interesting to some that Butler is also a very accomplished photographer, which amazes me even more than his piano playing in many ways.
Butler opened his set with an original New Orleans flavored piece called "Basin St Blues" and then showed a little of his sense of humor when he told the crowd that he was going to run a little contest where we had to guess what song he was playing and when we figured it out we were to raise our hand and wait for him to call on us.  If we got it right, he would give us $500!  He then went back and reiterated that he had to "see us and point to us" in order for us to win, which got a big laugh from the room.  It turns out the song that he played for the "contest" was a very jazzy instrumental version of The Beatles "Eleanor Rigby," which showed everyone in the room that Butler can make even the most recognizable songs "his own."
As the set went on, Butler shared stories about one of his mentors, New Orleans legend James Booker who had, according to him, taught Harry Connick Jr. "just about everything he knows."  He followed up the story with a fabulous tribute to Booker called "L'Esprit De James," that he wrote in the style of his friend and is featured an album that he did with Corey Harris in 2000, called Vu-Du Menz.
He then went way back in his catalog to a song that he wrote in 1978, a year that he joked was "way before most of you were born," called "Orleans Inspiration."  Around this point in the show, he shifted gears a little and started to focus a bit more on covers like "If I Only Had A Brain," and a few numbers that featured his rich Baritone voice like "Dock of The Bay," and "Will It Go Round In Circles."  Butler wrapped up the set with another nod to New Orleans when he played "Ol' Man River" from the 1927 musical Show Boat that highlights the struggle of those that live along the banks of the uncaring Mississippi River.
Though he no longer spends a majority of his time in Denver as he did in the months and years after Katrina, Butler did have good things to say about our city and even mentioned that he still owns a home here.  Hopefully this means that we'll see him on the intimate stage of Dazzle again in the near future as I think it's been 3 years or so since he was there last time.  As far as I'm concerned, he's welcome any time!
Energy: B+
Sound: A
Musicianship: A+
Stage Presence: A-
Set/Light Show: N/A
Overall: A
Music has always been a part of my life. It probably all started listening to old Grateful Dead, Peter Paul & Mary, and Simon & Garfunkel records that my parents had, but it wasn't long before they were taking me to concerts like Starship, Crosby, Stills & Nash, and Huey Lewis & The News. I got the bug to write about music after reviewing an Eric Clapton concert for a creative writing project in high school but didn't really take it up seriously until 2002. Since then I have published countless articles in The Marquee Magazine and done some work for Jambase.com, SPIN Magazine, and various other outlets. I started Listen Up Denver! as a way to share the music information that is constantly spilling out of my head with people who care. Please enjoy!