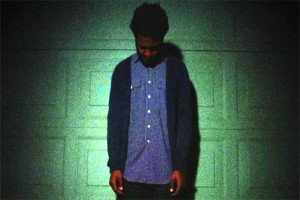 The Scene: As an avid Denver concertgoer, this was surprisingly my first time at the Larimer Lounge to see a show.  The place has a unique charm; sort of a hipster house party vibe with its low hanging stripped ceilings lit by a few measly strings of Christmas lights.  In the throws of the annual Denver Restaurant Week, this seemed a good choice for a little known performer to come and test our city's music scene.
XXYYXX: The immediate intrigue for many fans of Orlando based producer Marcel Everett, is his age.  At 17, his bedroom-studio musical creations hold weight and soul beyond expectation for someone who can't yet vote.  In a dimly lit setting like the Larimer Lounge, there's no telling the age of a performer.  With his sideburns, mini-fro and button down dress shirt, XXYYXX could have been a seasoned touring pro at first glance but from the moment his set began, a siren of inexperience was in the air.  What should have been a synth-driven intro was rudely interrupted by his Ableton Live metronome and it was a sign of things to come.
The crowd was in a slow sway as the music ramped up in energy and tone, driving bass washing over the sound of well-programmed 808 drum beats.  Incomprehensible lyrics pitch warped to Barry White lows are a standard of his own creations.  They fill the compositions with soul and sadness.  In a scene rife with heavy bass drops and gnashing drums, XXYYXX's tunes represent a softer side of beat driven EDM.  His most popular song, "About You," is a great example of this emanating musical emotion and is the pinnacle of his production ability thus far.  The crowd recognized the song almost instantly and moved in unison at underwater speeds to the new age slow dance jam.
A brief internet mention on Reddit and a couple of listens to his self-titled album on my headphones were what brought me to the show.    I had wondered going in if a rookie performer was going to have the savvy to work an experienced crowd and what kind of performance setup he would display.  Using an APC40 to play his tracks, XXYYXX used pretty simple skills and effects on his music throughout his time on stage.  Most of his work was done using high and low pass filters to wash out sound and straight forward beat repeats were used to add some semblance of mixing and glitch work.  It was apparent that live mixing was not something that he had put a lot of time into, and most songs ended completely before he would transition into the next track.
While it must be enticing for a newly discovered musician to take the show on the road, XXYYXX's music seems best left discovered through your own sound system at this point.  Songs like "Breeze" and "DMT" exude potential energy of things to come, but the lack of on-stage enthusiasm and live musicianship left something to be desired.  With that said, the kid is only 17 and is off to a good start musically, especially when given the time to fully produce original work.  He seems an artist currently finding his sound and musical voice.   When you see a live show, it should add something substantial to the music you already know, whether that be a one of a kind sound system, beautiful stage displays or musicianship that has to be seen to be believed.  This show unfortunately did not provide much of any of these elements.
Energy: B-
Musicianship: C+
Sound: C
Stage Presence: B
Set/Light Show: C
Overall: C+