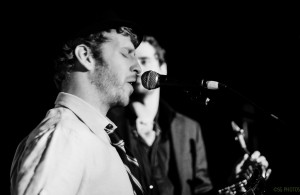 Photos by Kirsten Cohen
Please Note That The Whales and Members of Fox Street Allstars Will Be Performing at
Revenge of The 90's III at Cervantes' on March 30th.  Don't Miss It!
The Scene: The Larimer Lounge is a dive bar, pure and simple; it's a little out of the way, wires hang from the low ceiling, and the walls are plastered with simple posters for upcoming shows, but last Saturday it was transformed into a Southern Juke Joint when Fox Street Allstars threw the album release party for their sophomore album Tough Talk.  Gone were the hipsters that often crowd into the room and they were replaced by a late twenty and thirty something crowd of good looking music afficionados, many of whom have been listening to the Fox Street boys since their days performing regularly at Herb's (another dive bar on Larimer).  The sounds of R&B, Funk, and gritty, Whiskey soaked Rock-n-Roll spilled out on the street all night as the temperature inside climbed and bodies rubbed together on the dancefloor.
Fox Street Allstars: After an energetic and well played set from Jonah Wisneski and his band The Whales, Fox Street kicked off the party with "Too Good," the first cut on the album and a track they released through their social media channels more than a month ago.  From the get-go Jonathan "Skippy" Huvard's growl got under our skin as James Dumm's slide guitar swirled around the room.  From there they took us all back in time to their debut CD and even further as they broke into one of their favorite covers, The Mighty Hannibal's "Somebody In The World For You."  This one has been in their arsenal from the very early days, and they've made the obscure Funk track their own over the years.
After coming out of the gates with guns blazing, Fox Street slowed things down a bit early in the set with "Heard That Line," a track from Tough Talk that inspired a few folks to grab their honeys and pull them close for a little slow dancin'.  I bet it's been a long time since anyone slow danced at The Larimer but, on Saturday, with the feeling of a hot Southern summer night in the air, it felt perfectly normal.
After dropping a couple more tunes from the new record including "Been Tryin'" and "Holdin' On" Fox Street slipped into one of the best tunes on Tough Talk, "What I Know."  [Editor's Note: Check out an acoustic version of this tune here] As the song built to a soaring climax, the room stood transfixed on the stage, and I was struck by how much this band has matured over the years I've been listening to them.  They have been fighting hard to make it for a long time and, if this album is any indication, they are on the brink of something big.
After inviting Wisneski to the stage for "I Got Reasons," the boys wrapped the first set with a pair of covers that all but guaranteed no one would leave during the brief set-break. The first, a sultry cover of Chuck Brown's "Game Seven" featured Mirco Altenbach on Sax and Gabe Mervine on Trumpet and really got the room moving, but it was Zeppelin's "Black Dog" that showed what a powerhouse this band can be.  Huvard may not have the range of Robert Plant, but it didn't matter because he put the song in his range and belted it out with confidence and power as drummer Eric Low stayed a bit behind the beat just as the legendary John Bonham would have.  It wasn't the first time I'd heard Fox Street tackle this classic, and I hope it won't be the last.
The second set started off with "Take It or Leave It," a song Fox Street Allstars have been performing live since their last CD release party, and also appears on Tough Talk. When Fox Street first formed they were essentially a cover band, and they crushed the second set with a string of four covers that made my legs hurt the next day because they inspired a seriously funky dance-a-thon.  Once I recognized the first few notes of Elton John's "Bennie and The Jets," my knees started bending to the infectious groove, and then my body went into full on funk mode as Chris Speasmaker hammered on the keys. Staying in the same sexy 1970s wheelhouse, they moved on to the Bee Gee's classic "Jive talkin'" and brought vocalist Aubrie Hamrick into the action. Hamrick's stayed on the stage as Fox Street stared "Sneaking Sally Through The Alley" and helped them close out the cornacopia of covers with Stevie Wonder's "Livin' For The City." Wonder's gem is one of the two covers the band threw into the mix on Tough Talk, and the recent addition of Mirco Altenbach on Saxophone helped them take this song all the way.
The string of powerhouse covers allowed Fox Street to strut their stuff and pay homage to their early days, but "Upstream" is a representation of where this band is heading. James Dumm is an animal on slide guitar, but his sweet side comes out when he sings. Dumm has been singing more and more, and the combination of Huvard's gritty smokiness and Dumm's sweetness blend into Honeysuckle harmonies with a Whiskey bite.
Keyboardist Bill McKay had a strong presence on Tough Talk, and watching he and Chris Speasmaker share the piano bench as the clock slipped well past 1am, was awesome. McKay might be best known for his time with Leftover Salmon, but his brilliance really hits you when he is getting funky. Well, let's just say that McKay shined as he sat in for the last few songs of the night including a smoking cover of Dire Straits "Money For Nothing."
Fox Street Allstars have earned their stripes over the past few years, and they are getting some great reactions from this new album. Locally, they just recieved a great write up in the Denver Westword, and on a National level, Relix magazine gave the album a great review. These boys are doing it, and they are doing it big. They are walking the talk…and it's pretty f'ing tough.
Energy: A-
Musicianship: A
Sound: B+
Stage Presence: A-
Set/Light Show: C
Overall: A-
Review by Tim Dwenger & Brian Turk