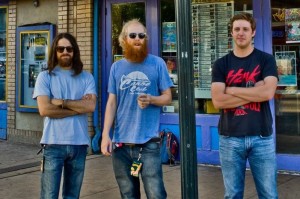 Why You Should Go: Evoking emotions that you thought had long passed – the feeling of your first cigarette, or the way you feel listening to a worn vinyl as it warmly crackles against the sound of a summer night – The Congress are a natural evolution of more than 60 years of purely American music. With a spirit rooted just south of the Mason-Dixon Line, and now calling Denver – "The Queen City of the West" – their home, they've got enough soul, grit, and have spent enough time in the woodshed and on the road to call them pretty much whatever you want. But whatever words you think you need to describe their contribution to the American music tradition – save your breath. The Congress play Rock & Roll.  Although the band has made Colorado their home this nationally touring act is always on the move making this a must see show!
The Congress will also be celebrating the release of their brand new EP The Loft Tapes which will be available at the show and nationally on April 16th.    The EP features 7 soul covers that were recorded in a old Masonic Temple in Berthoud, CO over a week in January 2013. Scott Lane of The Congress recorded and mixed the tracks on an 8 channel reel-to-reel tape machine with the help of engineer Logan Muckler. The EP pays tribute to the music and recording style that has influenced the band's development. Brian Lucey (Black Keys, Dr. John) has signed on to master the album which will be released in both digital and vinyl format.
Venue: The Bluebird Theatre, 3317 E. Colfax Ave, Denver, CO 80206 – 303/377-1666
Doors:  8:00 PM Showtime: 9:00 PM
*Price: ADV $12.00  DoS: $15.00
Buy Tickets
*All prices are gathered from other sources and we are not responsible for mistakes or inconsistencies. They are intended only as guidelines. Please, always call the venue if you desire the most accurate information possible.