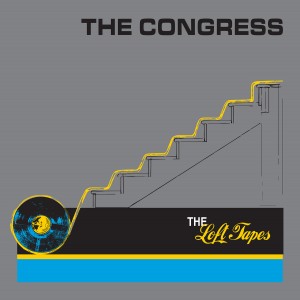 Enter To Win Tickets To See The Congress On Saturday March 16th at The Bluebird Theatre By Posting:
"I Wanna Get Get Down With The Congress On Saturday" on the Listen Up Denver! Facebook Wall
Soul music has the wonderful property of evoking memories of musical marks made on the heart. Residing in childhood reminiscence that feels hazy now, golden oldies were always a turntable favorite of mine on lazy-day afternoons. So, it should come as no surprise that the brand new EP by The Congress is quickly working its way into heavy rotation in my current playlists. Recorded on a reel-to-reel tape machine in an old Masonic Temple in Berthoud, CO, The Loft Tapes pays tribute to the band's influences with a collection of super chilled Soul classics that have a fittingly scratchy and vintage vibe.
Though it's the old-south hymnal hospitality and good-gracious gospel stylings of lead vocalist and bassist Jonathan Meadows that steal the show on this collection, Scott Lane's playful and passionate guitar style and Mark Levy's thoughtful attention to the beats, showcase a band that has the ability to do whatever it wants. No apologies needed.  Together, and alongside the unassuming, yet essential, addition of Chris Speasmaker (Fox Street Allstars) on keys, the boys deliver versions of these classics that don't stray too far from the original while seeing them from an undoubtedly pitch perfect point of view all their own.
The first track is a savory rendition of "You've Got a Friend" penned originally by Carole King. "People Get Ready" is covered with warmth, giving a gospel nod to one of Curtis Mayfield's earlier compositions written during his time with The Impressions. Roberta Flack's "Killing Me Softly" is feverishly infused with Funk thanks to the beats and keys served up by Levy and Speasmaker. The guys cross gender lines again when they tap into their sensitive side on "Que Sera, Sera," a global favorite made famous by Doris Day. Lane rips open "Fool For You," another Mayfield number, as Meadows cries out for deliverance from love before the fellows cover Van Morrison's "Into The Mystic" like pioneers eager to rock any gypsy soul.  "What's Going On" is a question just as relevant now as it was when originally asked by Marvin Gaye – the slower opening tempo speeds up with care and ease as the backup vocals sneak in with surprise.
Mixed by Scott Lane and mastered by Brian Lucey (Black Keys, Dr. John) the EP is set for release nationally on April 16th, but The Congress will celebrate the local release of The Loft Tapes EP at the Bluebird Theatre in Denver on Saturday night March 16th.
"Bob Dylan's Subterranean Homesick Blues was the first song I memorized the lyrics to. That was, essentially, the beginning of the end." From Dayton, OH., Miranda Brooks was raised in a house built by love and music and art and humor. Miranda credits music as the primary catalyst for her writing passion; naming her parents as the source for the early introduction. Calling Denver home since 2007, Miranda enjoys the city's offerings and is actively involved within the community through various volunteer opportunities.