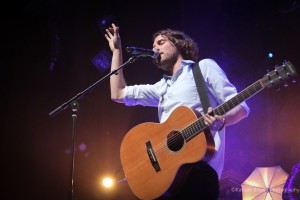 Photos by Karson Brown
The Scene: The Ogden Theatre was packed last Friday with affectionate fans waiting to see the engaging and exceptionally talented Churchill shine on their hometown stage. While it was bitter cold outside in the Mile High City, this homecoming felt warm and fuzzy with two incredible opening acts and an outpouring of the love from a huge group of devoted fans.
Opener: The Autumn Film. Boulder born group, The Autumn Film enchanted the bundled up crowd with a beautifully warm and sophisticatedly arranged set list. The voice of Tifah Phillips is so powerful yet sentimental you feel like crying or hugging the strange guy next to you. Her voice is inexplicably familiar as it shares qualities with the smoky voices of Fiona Apple and Tori Amos but still completely unique.
With the bombastic drums from Dann Stockton, smooth guitar riffs by the nearly too tall Reid Phillips and of course Tifah on keys along with her buttery soft vocals, no one would escape without loving this group.  The Colorado band flaunted their assured lyrics and unique sound on songs like "Row" and "Save Me" from their latest album 8 Track Tape.  When they perform in Denver again, I know I'll be there. The Autumn Film is Colorado's next shinning jewel.
Opener: Ha Ha Tonka. Full of spark and confidence, the Missouri band Ha Ha Tonka found a crowd that could appreciate their full range and creative mix. The combination of Southern Rock and Indie influences with a mandolin, honey sweet four-part harmonies and good old fashion folky storytelling created a  lively and entertaining sound.
Ha Ha Tonka delivered a fun loving set and their sound and performance style was fresh and really determined. Playing songs from all of their albums including 2011's Death of A Decade,Ha Ha Tonka was full of energy, they were gracious to the fans, and they delivered with true blue southern charm.
Churchill: Denver loves Churchill…period. Although I already knew that, I couldn't get enough of their sweeping mandolin infused, alternative, pop/folk/indie sound and it was moving to see a Colorado crowd made up of all ages pack into the Ogden for their homecoming.
Churchill had recently returned home from a long promotional excursion that included an interview on Huffington Post Live and performances on VH1 Buzz and Jimmy Kimmel Live. This band had to be exhausted, but you'd never know it by they way they gave it their all on stage. They seemed right at home headlining The Ogden, even though it was their first time drawing a crowd to the old time stage. They had the poise of a band twice their age.
Churchill kicked off the night with "Ark in the Flood" from their Change EP released back in October. The band's performance showcased new and old material including "Happy Sad" and of course the very popular "Change." There was one song that I'd never guess could be covered by this seemingly squeaky clean group but Bethany Kelly really put the Churchill stamp on the Gnarls Barkley smash "Crazy." The tempo was bit slower, which made it fell more contemporary and persuasive, but it was a spotless rendition nonetheless.
On guitar and lead vocals Tim Bruns seems to really ground this mile high group with his very likeable and crowd-engaging personality. As the final song was about to start Kelly and Bruns invited The Autumn Film and Ha Ha Tonka to return to the stage and play the last song with them. They also asked for several members of other local bands to come up and join them. Joe King, formerly of The Fray, was invited and boy did he make an entrance. Dousing the first couple rows and nearly all of the musicians on stage with a fire extinguisher…hell, why not. It was exciting to see, added some special low budget special effects and it showed off the fun loving and laid back attitude of Colorado bands and musicans.
Churchill is a talented, topnotch group with a calm, collected approach to their music that is rarely seen in the over-the-top, flamboyant music mainstream. Churchill will be touring with last year's American Idol winner Phillip Phillips and Pink this summer but don't get your hopes up. Unfortunately the tour won't be making stop in Denver. Good thing Denver is where Churchill calls home.
Energy: A
Musicianship: A
Sound: A
Stage Presence: A+
Set/Light Show: A
Overall: A
Karson Brown is Colorado native, local concert photographer and travel photographer. An Art Institute of Colorado gradate, she has a strong background in photography and design. With a passion for nearly all genres of music, Karson has the vision and love for performances which is infused in her written word and photographs. Karson's connection and roots in Colorado keep her grounded and involved in local events and concerts.