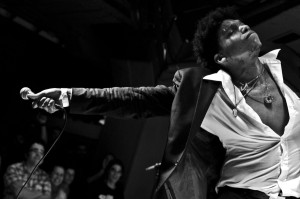 Photo by Jaime Massieu
Why You Should Go: What does post-punk soul look like? Six and a half feet of raw emotion and sweat, with one leather boot planted in gutsy R&B, the other in taut minimalist grind. Snarling at the crowd beneath an afro pompadour, while indulging in a sly wink, singing to you directly, and here to make you dance. What does post-punk soul look like? It looks like JC Brooks & the Uptown Sound.
The Uptown Sound has attracted a true-blue grassroots following, with MOJO Magazine identifying them as "one of the hottest US soul acts." Since unleashing their Bloodshot Records debut Want More ("A lively set of gritty old-school soul and funk injected with raw garage-rock aggression" – KEXP), they've barnstormed North America and Europe relentlessly, while burning up NPR and AAA radio with their stomping cover of Wilco's "I Am Trying To Break Your Heart," which they performed with the song's composer, Jeff Tweedy, at Wilco's Solid Sound Festival.  Up and coming is an understatement for this group, making this a must see show!
Venue:  Larimer Lounge, 2721 Larimer Street, Denver, CO – 303.291.1007
Doors: 8:00 p.m. Show starts at 9:00 p.m.
*Price: $12.00 ADV, $16.00 DoS
Buy Tickets
*All prices are gathered from other sources and we are not responsible for mistakes or inconsistencies. They are intended only as guidelines. Please, always call the venue if you desire the most accurate information possible.