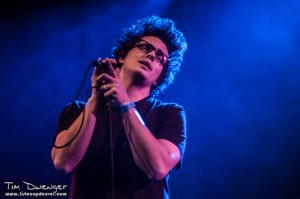 Photos by Tim Dwenger
The Scene: As I approached The Bluebird on Tuesday night, I saw a pretty good crowd outside and correctly assumed that opener Deep Sea Diver must have already finished their set.  Though I was bummed to miss the Seattle based band, I have to admit that I was pretty thrilled that Pickwick would be taking the stage in minutes.  Inside there was a great crowd for a Tuesday night and, as I made my way down toward the front, I noticed that while there was a good contingent of under 21's with big black X's on their hands there were also quite a few grey haired folks in attendance.  It seems that Pickwick's Indie influenced Garage Soul has made an impression on music fans of all ages, and we were all about to understand why.
Pickwick: For the last six months I've been pretty infatuated with Pickwick's Myths EP and their debut full length album Can't Talk Medicine only strengthened my adoration of the group, so obviously I was walking into this show with some pretty high expectations.  Well, I was blown away.  This band is the real deal.  They write powerful, hook filled songs that walk a fine line between Soul and Indie Rock and they back them up with a stage show that blows most bands I go see out of the water.
From the opening notes of "Brother Roland" until the final echoes of "Windowsill" died away, the audience was completely invested in the performance and it was clear that frontman Galen Disston and the rest of the band were having the time of their lives.  Only occasionally picking up a tambourine, Disston worked the stage, and the mic, like a seasoned veteran as he poured himself into each and every song the band cranked through.
Early in the set Pickwick dropped "The Round," one of my favorite tunes on the new album.  With it's old Soul vibe, the song got people's feet moving and though there wasn't much full-on dancing going on, the amount of pent up energy that was evident as people tapped their toes, shuffle stepped, and bobbed their heads, was impressive for a Tuesday.  Another stunner from Can't Talk Medicine is a reworking of Richard Swift's "Lady Luck" and since the album features an amazing vocal courtesy of Sharon Van Etten, I was curious to see how they would pull this tune off live.  While sadly Van Etten wasn't in the house, the band did invite Jessica Dobson from Deep Sea Diver to the stage to fill her role and judging by the reaction when Dobson took the stage, her band had killed it earlier in the evening and that made me regret missing them even more.  Dobson nailed her part and seemed comfortable on stage next to Disston as the two traded verses.
After Dobson left the stage, Pickwick dropped a few new tunes into the set before serving up "Halls of Columbia," the first track on Can't Talk Medicine, and the Indie-Rock edge of the song finally got the audience to release some of that pent-up energy as Disston danced around the stage and the lights pulsed rhythmically.  Building on outpouring of energy in the room, the band tore into one of their most recognizable tracks, "Hacienda Motel."  At this point it was clear that everyone in the room was having a blast and the disappointment in the air was evident when the band headed for the wings of the stage.
Though they returned for a two song encore that included a raging version of Damien Jurado's "I Am The Greatest Of All The Liars" and the aforementioned "Widowsill," I have to say the set was a bit short, clocking in at just under an hour.  That said, Pickwick left their fans sweaty and amazed as they slipped off stage with a final wave.  If this band keeps it up they might just find themselves on the stage of venues like, dare I say it, Red Rocks.  Catch them in the clubs while you can, you will not be disappointed!
Energy: A+
Musicianship: A-
Sound: A-
Stage Presence: A
Set/Light Show: B
Overall: A
Music has always been a part of my life. It probably all started listening to old Grateful Dead, Peter Paul & Mary, and Simon & Garfunkel records that my parents had, but it wasn't long before they were taking me to concerts like Starship, Crosby, Stills & Nash, and Huey Lewis & The News. I got the bug to write about music after reviewing an Eric Clapton concert for a creative writing project in high school but didn't really take it up seriously until 2002. Since then I have published countless articles in The Marquee Magazine and done some work for Jambase.com, SPIN Magazine, and various other outlets. I started Listen Up Denver! as a way to share the music information that is constantly spilling out of my head with people who care. Please enjoy!