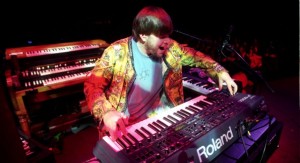 Beer comes in many flavors. So do musicians. Rare as a double lightning strike is when both meet in perfect harmony. But it's happened: String Cheese Incident keyboardist Kyle Hollingsworth is the musician, and Hoopla is his beer. And they're coming to a festival near you this summer; it's the "Brewru Experience."
Developed by Hollingsworth and brewed in conjunction with Boulder Beer, Hoopla is as daring in its construct as Hollingsworth is in his playing. Both have unexpected qualities that only serve to heighten the experience. "Like my music, Hoopla is a blend of varied ingredients that come together to form a unique mix," Hollingsworth says. "It's all about discovery. Beer or music, I'm willing to take risks with both."
Great things happen this way. A daringly bold brew straddling the line between an India Pale Ale (IPA) and its American cousin, Hoopla is refreshingly crisp and zingy, with a pleasant yet pronounced citrusy hop character that doesn't leave the drinker puckered up from bitterness or dry with cotton mouth. It's the perfect summer beer. More specifically, Hoopla is the perfect thirst-quenching brew for summer music festivals
Upcoming festivals such as Summer Camp in Illinois (May 26-29), Bonnaroo in Tennessee (June 9-12) and Electric Forest in Michigan (June 30-July 3)—all with high heat and higher humidity— have played a role in Hoopla's design. Hollingsworth's Pale Ale is hoppy, but not like the current trend of "hop bombs" that are difficult to drink or must be consumed slowly. "You don't want that on a hot day," Hollingsworth says. "You want something easy to drink when you're watching live music all day and all night. But I pushed the edges a little for beer fans."
Hoopla will be released nationally in 22-ounce "bomber" bottles and on draft on May 14 in conjunction with a special launch party at Boulder Beer Brewery in Boulder, CO. At the event Hollingsworth will discuss Hoopla and the fine art of homebrewing, a passion—like music—that has consumed him since his teenage years.
Hollingsworth will also introduce "The Brewru Experience" at the aforementioned festivals (as well as at Kyle's Brew Fest, July 23 at Boulder Beer, details coming soon). The culmination of a year of touring and meeting with brewers around the country—including Avery, Odell, Dogfish Head, Stone and Deschutes, among others— Kyle's Brewru Experience features homebrew workshops, open discussions (fans ask professional musicians about not-so professional brewing insights), samples of hops, grains and additional brewing ingredients, limited edition tastings (including Hollingsworth's own homebrews), special guests, and much more. "The goal is to help bring a quality beer experience to music festivals and music fans," Hollingsworth explains. "For me, it's been fun and even a bit enlightening to explore the connection between music and beer, and what's involved in the creation of both."
And, if the logistics can be worked out, Hollingsworth hopes to brew a beer during one festival, maybe even on stage. "I'll time it with a long jam so at the right point in the process I can run over and add the hops," he says with a laugh. "If there's a boil over we'll just work it into the jam."
Kyle Hollingsworth Summer Tour Dates
5.29 Summer Camp Music Festival | Chillicothe, IL – Everyone Orchestra, Brewru Experience
6.03-05 Quixote's True Blue | Denver, CO – Steve Kimock & Friends
6.11 Bonnaroo | Manchester, TN – The String Cheese Incident / Brewru Experience
6.30 Electric Forest Festival | Rothbury, MI – The String Cheese Incident / Brewru Experience
7.09 Old South Pearl Jam | Denver, CO – Kyle Hollingsworth Band
7.23 Kyle's Brew Fest | Boulder, CO – Kyle Hollingsworth Band / Brewru Experience
7.28 Oregon Brewers Festival | Portland, OR – Kyle Hollingsworth & Excellent Gentleman
7.30 Collegiate Peaks Music Festival | Buena Vista, CO – Kyle Hollingsworth Band
7.31 Carbondale Mountain Fair | Carbondale, CO – Kyle Hollingsworth Band
8.13 Bears Picnic | Laurelton, PA – Everyone Orchestra
8.19 Camp Barefoot | Bartow, WV – Kyle Hollingsworth Band
8.04-06 Yarmony Grass | Rancho Del Rio, CO – The Trancident
8.26 NedFest | Nederland, CO – Steve Kimock & Friends
9.09 The Werk Out | Bellefontaine, OH – Kyle Hollingsworth Band
More dates to be announced, stayed tuned to www.kylehollingsworth.com
Music has always been a part of my life. It probably all started listening to old Grateful Dead, Peter Paul & Mary, and Simon & Garfunkel records that my parents had, but it wasn't long before they were taking me to concerts like Starship, Crosby, Stills & Nash, and Huey Lewis & The News. I got the bug to write about music after reviewing an Eric Clapton concert for a creative writing project in high school but didn't really take it up seriously until 2002. Since then I have published countless articles in The Marquee Magazine and done some work for Jambase.com, SPIN Magazine, and various other outlets. I started Listen Up Denver! as a way to share the music information that is constantly spilling out of my head with people who care. Please enjoy!