Below is a feature that I published in The Marquee Magazine in October of last year.  Pug is returning to the Hi-Dive on Friday and will be armed with all the best songs in his vast arsenal.  It's really a treat to see Pug in such a small, intimate space, so read a little about how he got to where he is today, and then go check out his show on Friday night.  You'll be glad you did.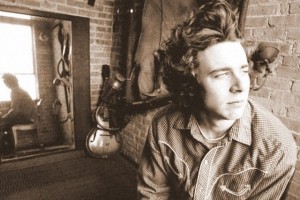 The world of Folk Music is, for the most part, unassuming.  There are no huge light shows or pyrotechnics, and the paparazzi probably aren't chasing down your favorite singer songwriter.  The folk tradition is about great songs.  It's about the music, it's about the lyrical images that the artist creates, and it's about the sense of community that surrounds the whole experience.  In three short years, Chicago native Joe Pug has calmly established himself as one of the rising stars of the scene simply by believing in himself and the quality of his art.
Pug studied playwriting at The University of North Carolina, and just before he was set to begin his senior year he had a moment of clarity that convinced him that he didn't belong in school any more.  He had been working on a play called "Austin Fish" and when he spoke about the play with us over Skype from Dublin, Ireland, he didn't have too many good things to say about it.  "It was not a very good play.  I've gone back and reviewed it since and it's pretty juvenile.  I was trying to get out some deep feelings; things that were pretty hard to express and when you do that you have to be subtle and have faith that your audience can pick up things.  I wasn't subtle with it at all; I really hit them over the head too hard and that's the surest way to come off as an amateur."
Though he wasn't happy with the play, Pug was able to turn some of the ideas from it into his first songs as worked as a carpenter and felt his way into the world of songwriting. "To be honest I really didn't think it was too much a different when I started," he said.  "I was still just sitting down and writing.  Obviously the conventions are different in terms of putting the words to melodies but that's something that I've learned a lot more about as I've gone along."
Pug has gone along to make two outstanding EPs, and earlier this year his debut LP Messenger was released to critical acclaim.  The albums ten tracks showcase Pug's self taught guitar playing and seemingly effortless songwriting with bittersweet lyrics like:
I sacrificed my sister
I prayed my own soul to keep
I told my dying father
That a man should never weep
In hearing those lines, and others in his songs like "I'd rather be nobody man than somebody's child," one might be prone to thinking that Pug had a rough childhood but it seems it was just the opposite.  "My childhood was great, almost idyllic," he said.  "I'm very close with my family to this day.  They are one of the most important things in my life."
Though the fact that he is able to conjure up such poignant images, seemingly out of thin air, is a great testament to his skill as an artist he is first to admit it doesn't always come easy.  "Generally what happens is that you have to force out some songs and that gives you practice at writing and they are usually pretty terrible," he admitted.  "Then, when you are hit by genuine inspiration you are prepared to tackle it because you have been practicing.  You have the faculties to bend that lightning and make it happen.  You have to force yourself through some pretty ugly songs to be ready for those moments."
It looks like at those moments are paying off as Pug is touring Europe and the U.K. as well as playing shows from coast to coast on this side of The Pond.  He attributes much of his success to his willingness to make his music available to people for free, as is the case with the samplers he mails out from his website and his EP In The Meantime, and for a relatively nominal cost, as he is doing by making all of the tickets for his upcoming U.S. tour, ten dollars each.
"The idea for the 10 dollar tour came to me a couple of months ago when I got raked over the coals buying tickets to a show I wanted to see.  I got battered, it was a ton of money," Pug said.  "I just figured that I wanted as many people to come out and hear my songs as possible.  I know what it's like to be a listener and get gouged and the dirty little secret is that the artist controls the face value of the tickets, so I figured that if I can control it I should try to.  It's a grand experiment, it could fail miserably but it could succeed beyond our wildest expectations."
Chances are that this tour, and many more after it, will succeed so long as Pug keeps to his strategy of writing great songs and making his music as accessible as possible to his fans and anyone else who might be interested.  It's a bold strategy to take a loss on your product but so far it seems to be working.  "I don't throw the dice often but when I do I like to be pretty sure, and I'm pretty sure about this one," he said.  "Without trying to come off like an asshole here, I really think the music is good and I'm proud of it.  I think that if I can make it easy for people to give it that first chance, they'll be fans for a long time.  It's a short term loss for, hopefully, a career gain."

Music has always been a part of my life. It probably all started listening to old Grateful Dead, Peter Paul & Mary, and Simon & Garfunkel records that my parents had, but it wasn't long before they were taking me to concerts like Starship, Crosby, Stills & Nash, and Huey Lewis & The News. I got the bug to write about music after reviewing an Eric Clapton concert for a creative writing project in high school but didn't really take it up seriously until 2002. Since then I have published countless articles in The Marquee Magazine and done some work for Jambase.com, SPIN Magazine, and various other outlets. I started Listen Up Denver! as a way to share the music information that is constantly spilling out of my head with people who care. Please enjoy!