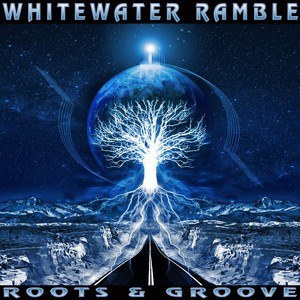 Enter To Win Tickets To See Whitewater Ramble On Friday March 29th at Planet Bluegrass By Posting:
"I Wanna Groove With Whitewater Ramble On Friday" on the Listen Up Denver! Facebook Wall
One of the most difficult juggling acts any Jamband has to perform involves the translation of the energy, passion, and improvisation of a live show into a studio album.  While most bands try and make a distinction between "studio" and "live," Whitewater Ramble has done a damn near perfect job of combining the two with their most recent album, Roots & Groove.  This latest effort from the Fort Collins quintet captures the "high-octane" feel of their live shows, while at the same time crafting a cohesive and meaningful studio record.  Of course, it doesn't hurt to have Tim Carbone of Railroad Earth as a producer considering that RRE albums play like sonic short stories.  In addition to Carbone, Roots & Groove showcases the talents of Andy Hall on dobro (Infamous Stringdusters), Andy Thorn on banjo (Leftover Salmon), Grammy Award winner John Macy on pedal steel, and master of the ivories Bill McKay.  This all-star cast doesn't take away from the fact that WWR has captured the proverbial "White Whale" of Jam music: A contemplative studio album that plays like a live set.
A masterful cover of U2's Joshua Tree gem "One Tree Hill" kicks the record off with a flourish of rim shots from drummer Paul Kemp and before you know it you are running "like a river that runs to the sea."  Though it's a cover, Bono's lyrics to "One Tree Hill" set up some of the major themes of the album: regeneration, rebirth, death, and the cyclical, connected nature of all things.  After the first two verses we a treated to a perfectly crafted guitar and mandolin duet from Patrick Latella and Patrick Sites, followed by a brief but rowdy banjo solo from Andy Thorn and a solo from Zebulon Bowles, WWR's consummate fiddler.  The track then returns to the same quick rim shots and thumping double bass that started things off before the band delivers the third verse and a stirring last chorus complete with female vocals.  Thus, we see the theme of regeneration, but as any Bluegrass band worth their salt knows, regeneration is all too often brought about by violence… a sad fact that track two addresses.
"Fast As Lightning" is about a highwayman who pulls one last robbery to ensure his son is well provided for.  What makes this track come alive is that the arrangement mirrors the troubled mind of the song's main character.  While the song begins with choppy mandolin chords that accentuate the A part of the verse, there is a calm that comes over the B part which floats along on Bill McKay's subtle organ, a calm that speaks to the highwayman's reassurance in being quick on the draw.  When the highwayman is "on the run" there is an ominous bowed bass from Howard Montgomery and a paranoid and escalating fiddle solo from Bowles.  What makes "Fast As Lightning" a great song is that the lyrics tell the external story while we relate with the highwayman's internal struggle through the musical arrangement.  What makes "Fast as Lightning" that much more brilliant is the track that follows it.
"Dear Mr. Bankman" can be seen as the prequel to "Fast As Lightning" in that it deals with a man who works hard but cannot stay ahead of his bank payments.  While the song's subject matter is serious, "Dear Mr. Bankman" is a bit more lighthearted than its predecessor with a double time rhythm and "gee golly" feel.  Andy Hall's explosive dobro solo certainly helps to get the blood flowing, but after this upbeat, fleet-footed respite (if you can call it that!) WWR dives right back into introspection with "Guilty As Charged."  The songs intro, with its offbeat rhythm and frantic fiddle, is almost classical.  "Guilty As Charged" deals with the relative dichotomies of wrong and right, truth and lies, and the track provides the introspection needed to digest the first three songs.  A snappy guitar solo from Latella kicks off the instrumental in the middle and we are then led through a wonderfully chaotic arrangement punctuated by "Kashmir"-esque fiddle parts.  Kemp ends the song appropriately with a rollicking drum part that segues us back into the main motif before the climactic ending.
A true respite comes with the aptly named "Paradise."  The song begins with the soothing sounds of brushes on a snare drum and Sites' peacefully picked mandolin.  Beautiful female harmonies round out the nurturing, therapeutic sound.  The song confirms the hope that tribulation and strife can be melted away down "ribbons of highway" to a place called Paradise where a fragile semblance of peace can be glimpsed. We do not linger there for long however as we are slipped into "Beyers Canyon" with an unsettling transition.
"Beyers Canyon" is a sordid tale about a miner, his wife, and the local sheriff.  After the miner has discovered an affair the song's instrumental break again offers the listener a glimpse into the miner's state of mind with a scathing electric guitar solo.  WWR finally busts out the dance-grass as the miner rides away only to be pulled back in—just as we are—with the climax of the ballad.
After the darkness of Beyers Canyon, WWR offer up some humor with the tongue and cheek of "Standard Deviation."  The track is a bubbly reggae song that lives up to its name; showcasing horns and a psychedelic fiddle solo.  "Long Dusty Highway" is another great blend of Bluegrass and Dance rhythms with deft use of multi-instrumental melodies and harmonies.  Here Bill McKay does what he does best, with floating and yet insanely precise runs on the ivories.
Another lull in the debauchery comes in the song "Family Tree," a beautifully metaphoric song with no pretensions.  John Macy adds a poignant pedal steel part allowing time for reflection before the much debauched "Oh Jameson." Yes, it's about the whiskey.  The final track, "Polaris," speaks of synchronistic connectivity, sending out threads that help to further tie Roots & Groove to itself and to everyone who listens to it.  Well done boys, well done.
Whitewater Ramble will celebrate the release of Roots & Groove with an intimate listening party at Avogadro's Number in Ft. Collins on March 26th sponsored by KRFC 88.9 FM. The album will play in it's entirety and the band will perform several stripped down tunes including the new single "Mr. Bankman."
Nate Todd was born on the central plains of Nebraska, but grew up on the high plains of the Texas panhandle. With not much to do in either place, music was his constant companion. His parents dubbed the first two albums he ever owned onto a tape for him. Side A was Bert and Ernie's Sing Along. Side B was Sgt. Peppers. His lifelong love affair with music started early as he practically grew up in a Rock & Roll band, with his father and uncle often taking him out on the road or into the studio with them. Nate began performing live at sixteen and hasn't looked back, having played in numerous bands from L.A. to Austin. At the age of twenty he was bitten by the writing bug, and upon moving to Denver decided to pursue a degree from Metropolitan State University where he recently graduated with a B.A. in English and a minor in Cinema Studies.