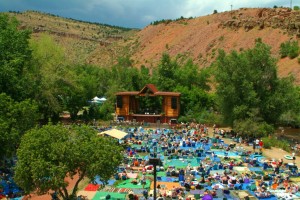 Planet Bluegrass is proud to announce the preliminary lineup for the 23rd Annual Rocky Mountain Folks Festival, held August 16-18, 2013 on the Planet Bluegrass Ranch in Lyons, CO.
Loreena McKennitt
John Butler Trio
Patty Griffin
Colin Meloy
Mary Gauthier
Nathaniel Rateliff
Lynn Miles
Shane Koyczan & the Short Story Long
Ariana Gillis
Robby Hecht
Songwriter Showcase
And many many more still to be announced…
3-day passes and camping are available now at www.bluegrass.com or 800-624-2422. Single-day tickets will be available later this Spring with the announcement of the complete single-day lineup. Tickets continue to sell at a strong pace – with our limited allotment of holiday-priced 3-day passes selling-out in December, nearly 3 weeks earlier than ever before.
From its inception as the "summit on the song," the festival has looked beyond geographic and musical borders to bring together the finest musical storytellers from a variety of genres.
The 2013 lineup welcomes the Lyons debut of Grammy-nominated world music pioneer Loreena McKennitt, whose powerful fusion of Celtic and Middle Eastern musics has sold more than 14 million records worldwide, including gold and platinum awards in 15 countries across 4 continents.
One of Australia's most beloved artists, guitarist and singer John Butler returns to Lyons for the first time since 2004, this time with the deeply meaningful grooves of his acclaimed John Butler Trio. Grammy-winning Texas singer-songwriter Patty Griffin makes her 4th appearance at the Folks Festival after spending much of the past few years as a member of Robert Plant's Band of Joy. Singer-songwriter, author, and leader of indie-folk-rock icons The Decemberists, Colin Meloy performs a rare solo set on the Lyons stage.
Each of the artists on the 2013 lineup bring a unique perspective on story and song: from the musical truth-telling of Louisiana-native Mary Gauthier; the gripping voice of Denver songwriter Nathaniel Rateliff (whose Rounder debut has earned him massive acclaim from European tastemakers and numerous tours with his outspoken fans Mumford & Sons); to the hope and grace of Ottawa songwriter Lynn Miles.
The carefully curated lineup also introduces newcomers to the Folks Fest audience: passionate spoken word artist Shane Koyczan (whose provocative video "To This Day" has received 7.5 million YouTube views in its first month); young Canadian folk-pop phenom Arianna Gillis (hailed as "the single most exciting thing I've heard in a very long time" by Elton John lyricist Bernie Taupin); and thoughtful Nashville songwriter Robby Hecht, winner of both the Telluride Troubadour and Folks Showcase songwriter contests in recent years.
The festival opens on Friday morning with the nationally-recognized songwriting contest, the Folks Songwriter Showcase.  Ten finalists, chosen from more than 500 submissions, perform 2 songs on the main stage. The winning songwriter, as chosen by a panel of music industry professionals, is given a new Taylor guitar and a full main stage set at the 2014 festival. Past winners include: Deb Talan (of The Weepies), Erica Wheeler, and Caleb Hawley.
With a dedicated family activity area – including crafts, nature activities, and music performances – and the sandy beach and cooling waters of the St. Vrain River running through the festival grounds, the festival is popular with families and "festivarians" of all ages.
The Planet Bluegrass Ranch is nestled in the foothills in the historic quarry town of Lyons, CO, midway between Boulder and Rocky Mountain National Park. With its burgeoning year-round music community, the small town of Lyons is "quietly becoming the Nashville of the Rockies" (NPR's All Things Considered).