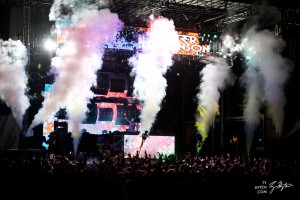 Photos by Ty Hyten & Adam Henrichs
The Scene: Driving into Winter Park on Friday afternoon was a 3mph parade of late teens and twenty-somethings already in neon accessories and ski gear, piled six deep in SUV's on the way to one of the more unique electronic music festivals in the country, Snowball Music Festival. The police, who vowed to be less aggressive than last year, pulled over cars left and right as I drank a 5-Hour Energy and watched from the gas station. After making the twenty minute drive through tiny downtown Winter Park to the condo, it was 4pm and the anticipation had everybody in full party mode before sunset.
I'll give the disclaimer that I don't typically go to many EDM shows but after unexpectedly having a ton of fun at Snowball last year, I had vowed to return. While there's no camping and it's freezing cold, Snowball still breeds one of the best things there is in music, the festival mentality. As we walked to the venue we made small talk with other festival goers, many of whom were far more ready to rage at 5pm than we were, but we'd catch up. We talked favorite artists with random groups of SpiritHood wearing festival goers as a guy shouted from the balcony of a condo "Hey! Do you guys have any benzos?" I didn't, but I'm sure he found what he was looking for by nightfall. We made it through the muddy gates and saw our home for the next 3 nights and two days. The festival felt a bit smaller than the previous year, with only three stages, but it still welcomed us with open, although very chilly, arms.
Porter Robinson: I started the weekend off with a bang with Porter Robinson. Porter started the set in the daylight to a pretty mellow crowd and ended it big. The 20 year old kid behind the massive LED wall officially jumpstarted a dance party that wouldn't stop until STS9 left the stage 48 hours later. His set time couldn't have been placed better and I definitely had the feeling that the starter pistol had been fired with the huge explosion of smoke cannons. He closed his set with a rain shower of confetti from the stage and 10,000 people rolling, in multiple ways, towards the music to come.
Kendrick Lamar: The past year has been a hell of a year for Compton, CA rapper Kendrick Lamar and his placement on the main stage at Snowball was just another sign he had transcended audiences. From the Indie blogs, to Hip-Hop fans, to the MTV crowd, Kendrick's most recent album Good Kid, m.A.A.d. City has been very well received.
The festival crowd was growing in size and anticipation as Kendrick took the stage and owned it, no matter how out of his element he may have been. I laughed to myself imaging what a 16 year old Kendrick on the troubled streets of Compton would have said if you told him he'd play the main stage at an electronic music festival in a ski town just nine years later. He started his set with the hood narrative "The Art of Peer Pressure" then moved into a few tracks from his first two albums including "Hol' Up" and "A.D.H.D." with the audience all chiming in loudly on the "F*ck that!"'s of the refrain. The crowd really bought in once Kendrick started in on tracks from Good Kid, m.A.A.d. City. The crowd sang along with fan favorite "Money Trees" yelling in unison "ya bish!" as Kendrick kept the show going without the eccentricities of the others on the bill. At one point Kendrick gave a shout out to collaborator A$AP Rocky causing the crowd to go wild in anticipation of his appearance but Kendrick went forth solo on a rowdy truncated version of their hit "F*ckin' Problems." The song was topped off by the crowd joining in for a loud "Girl, I know you want this dick!" followed with cheers. The set wouldn't have been complete without his song about alcoholism turned party jam "Swimming Pools (Drank)." While his lyrically winding rap may have been a stark contrast to what they came for, Kendrick definitely won the crowd over and delivered a great show.
Krewella: As much as I was feeling Kendrick, I thought it was my duty to see what all the hype was about and took a one song break to go check out Chicago EDM trio Krewella. I made it as close as the huge crowd pouring out the back of the Groove Tent would let me without dancing me unconscious. The crowd was going nuts on what turned out to be an ice rink of a tent.  I heard multiple stories of broken and dislocated body parts thanks to Krewella and the snow-turned-ice floor of the tent. But I guess if you made it all the way up to Winter Park to party you shouldn't hold back – unless you have a large camera on your neck. I took in the wild mess like a chaperon at prom. I know, lame. I was a little bummed out that the two female singers didn't sing on stage, but I guess I'll take eye candy however I can get it in this male-dominated genre.
Big Gigantic: As I walked back towards the main stage for the pinnacle of the evening, I passed under the huge arch of illuminated balloons that were one of the coolest visuals of the weekend as they changed in elevation and color it was a bit mind blowing.
Since all the other shows had come to a close the whole festival surrounded the main stage for Boulder, Colorado's own Big Gigantic. I hadn't given Big G much attention in the past and a friend told me they were just "Kenny G with a MacBook," so I was skeptical how well his music would translate live. It ended up being hands down my top set of the weekend. As the huge light panels changed colors, Big G dropped sample and sax laced beats powered by live drums and swelling waves of fan energy. The crowd  held tons of inflatable saxophones in the air as Dominic Lalli gave love to his "Colorado family."  Through the night they made use of  plenty of crowd pleasing samples from artists like DMX, Macklemore, and Aloe Blacc's "I Need a Dollar." The peak of their music, lights, and fan energy blew away all the acts that came before them. The set ended with an unexpected burst of fireworks and a huge cluster of fans funneling out into the after-party scene.
Robotic Pirate Monkey: I'll admit, I didn't give much thought to after-parties ahead of time, but when the music ended around 11pm, it was well before everyone's bedtime so we made our way to a local bar to see Colorado's Robotic Pirate Monkey, a 3 DJ crew who had played the Groove Tent early in the day. I was really shocked by how collected all the post-ragers were. Everyone seemed spent. So while RPM put on a solid set of wompy party dubstep,  something was a little off. After signing up for god knows how much free chewing tobacco and glowsticks we'll never use, we made it back to the condo complex for more of what festivals are all about, making new friends, drinking PBR's, and maybe imitating dance moves from Diplo's "Express Yourself" video. I think I injured myself.
Day 2
The Scene: Day two began with the collective rising of zombies from floors, couches, and chairs, their only fuel – last night's booze, hash-browns, and the promise of two more days of great music. The walk into the festival was much more mellow and 2pm never seemed more like 7am.
Delta Spirit: Making our way through the freshly covered mud to the main stage we joined a tiny crowd for indie rock band Delta Spirit. 70 people now stood where 10,000 had the night before. The stage that felt huge for Big G now felt like the bandstand at the county fair. It was a very strange feeling.
Despite a small crowd the California based beach-tinged group played a high energy set. Though I love Delta Spirit, I couldn't help but feel like these guys had no place on the main stage at an electronic music festival but rather in a small theater packed to the gills with fans singing the words to every song.  The high water mark  was "Tear It Up" from last year's self-titled album for a crowd that seemed to pick up a little bit of steam if only for a moment.
Polica: For a weekend that many feared would be inundated with snow, the only really snow of the weekend came just before Minnesota's Polica took the stage. Their unusual blend of indie rock with a mild electronic touch was another standout of the weekend. It's bare bones, and singer Channy Leaneagh's voice has a distance and exoticism to it that really drew me in. The snow fell on the band as video of fire flickered behind them. It set a mood and was a welcome reminder of the novelty that is Snowball.
Portugal. The Man: The last group of Indie rockers to play the main stage Saturday was Alaskan grown Portugal. The Man. The crowd had grown and, while they weren't wild, they were content. It was one of the few times during the week I heard singing over my shoulder. The band had a nonchalant energy about them that connected the crowd and kept the night rolling.
Pretty Lights: After a short stop at Datsik's set where dark Dubstep, thick with what I can only describe as robot noises, was getting the crowd rowdy, I made it to the main stage for Colorado EDM superstar Pretty Lights. Pretty Lights, aka Derek Vincent Smith,  walked out with his hood up to a crowd of 10,000 and like Big G had the night before, he played a set to outdo all the other sets that preceded him that day. Dense lasers fanned out from the stage illuminating  thousands of fans, and millions of glow sticks. His stage lights weren't as elaborate as I've seen from him in the past, but he still delivered on his name sake with enough lasers to pop your mind out of it's socket. Hunched over his gear he dropped sample rich beats for a never ending sea of moving bodies and smiling faces. Just as the night before, it ended with an unexpected explosion of fireworks from above the stage signaling the departure into sponsored after-parties, bars, and condo mischief.
Day 3
The Scene: On day three we woke up feeling the full effects of Snowball's avalanche of partying. Out of all 10 of us, I was the only one who brought a key out the night before. The key didn't work, so naturally someone broke a window. We joined other sad looking festival goers for a detox of pizza and cold water at Hernando's. The whole area surrounding the festival grounds was strangely vacant as the bright sun lit the way to the finale of the weekend.
Robert Randolph: As I walked up to the stage for Robert Randolph I was surrounded by a fairly small crowd. Robert and the Family Band took the stage with little of the enthusiasm I'd seen in videos. While it took a while for that enthusiasm to show up in Robert, it did, and he and the rest of the band came alive and they rocked.
Randolph, who plays the pedal steel guitar quite non traditionally, made the instrument scream under the weight of his slide. His tone and haphazard blues runs invoke Hendrix on the 6 string, especially when he killed a cover of "Purple Haze." Robert put on a hell of a show but it's always disappointing to see a smaller crowd in front of so much talent, but then again they were the outsiders at a festival headlined by electronic artists. That being said, the crowd that was there ate it up and danced with whatever dancing they had left in them on day three. Highlights included "The March" where Robert riffed on steel and danced, and his hit "Aint' Nothing Wrong With That".
Flosstradamus: Next, I ventured across the treacherous ice to the Groove Tent.  Along the way I witnessed a few falls and narrowly avoiding failing myself. The tent packed in, and I imagine this was the first show of the day for bulk of the crowd. Tall poles with signs, stuffed animals, and pictures used as friend beacons lined the sky. The crowd stood still as a sound guy checked the equipment for a while, then walked off as a remix of Drake's "Started From The Bottom" bumped in a loop to get the blood flowing. Shortly after, DJ's J2K and Autobot of Flosstradamus took to the stage bouncing and got the tent straight turn't up. Their brand of Trap music heavily samples Hip-Hop so they pump out a fat beat you can feel. They looked and sounded a lot more "hard" than some of the other acts, but that didn't keep a single ass from shaking.
Crizzly: While it was billed as Crizzly and Lil' Flip, the top-40 early 2000's rapper didn't make an appearance in the first 25 minutes of Crizzly's set that I watched. The Texas rapper only showed up late in the set for a remix of "This Is The Way We Ball." Crizzly did however have a hype man on stage in a kilt who kept the crowd going. He brought a girl up to dance with him, crawled across the stage, and went generally nuts. The combo of the hype man, crowd, energy, and what Crizzly was spinning made this a surprise favorite of the weekend.
STS9: After a long weekend of dancing, partying, making new friends, and discovering new music, Snowball 2013 came to a close with a crowd favorite and long time player in the game, STS9. The electronic and instrumental band had the whole crowd moving despite lacking that hard edge of some of the newer acts. No one seemed low on energy as the group poured jammy electronic music from the laser packed stage.
Some fans made their way out of Winter Park Sunday night for a harsh return to reality Monday morning while others kept the party going with after-party shows from acts like GriZ, Luminox, Aeroplane, Crizzly, & K Theory. It was a weekend of big names in music, late nights dancing, and festival memories. Snowball, you pulled it off again.