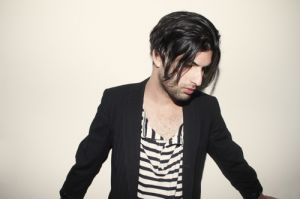 Denver's own, The Chain Gang of 1974 will be releasing their new album, Wayward Fire, on June 21st on Modern Art. The Chain Gang's Kamtin Mohager created this album in the midst of moving from hometown Denver to Los Angeles, breaking up with a longtime girlfriend, and effectively starting over. This new album is poised to give The Chain Gang of 1974 the bold introduction and sense of renewal the band deserves. It features laser-guided synth lines, shimmering keys, hands-in-the-air hooks, and choruses that cut through the rain clouds, all balanced with minor-key melodies and bloodletting lyrics.
For those that haven't heard TCGO1974 yet, we urge you to jump in now with Twin Shadow's "Undercover" remix, premiered yesterday via NYLON. They've stripped down the original, taking out some of those sharp synth lines, and given this song a whole new look.
Additionally, for all those Lollapalooza-bound, make sure to check out The Chain Gang of 1974 at this year's festival!
"the only new wave outfit that we'd stand in the rain clutching a boombox for. 'Undercover' is a sudsy dance anthem: managing to pull off both filmy and fibrous as Kamtin Mohager's epic baritone swells crash into a frenzy of keys and pop chords." – RCRD LBL
******
"Despite the solitary nature of the project, Mohager's sound more than meets the standards of a full-on gang. Take, for instance, the track 'Undercover' . . . The synth-powered jam breaths like the dance floor baby of Talking Heads and LCD Soundystem, invoking the '80s along with a timeless dance-rock energy." – Consequence of Sound
******
"honestly, catchy isn't really a strong enough term to describe ['Undercover']. It's a pulsing, sure-to-be-huge pop gem that should mean big things this year for the Chain Gang of 1974." – Prefix
******
"[Mohager] stirs in a bit of everything that makes post-millennial dance music great, from '80s synth swells to gritty post-punk guitars to yearning, lovelorn vocals." – SPIN.com
******
"A hybrid of dark 80s wave, early 90s industrial, turn of the century electro rock (a la the Electric Six) filtered through the ears of kids young enough to be obsessed with Justice and LCD Soundsystem—an exact description of Denver's Chain Gang of 1974." – Seattle Weekly
The Chain Gang of 1974 Tour Dates:
Thu. May 26 — San Francisco, CA @ Popscene
Sat. June 11 — Englewood, CO @ Gothic Theatre
Sat. Aug. 6 — Chicago, IL @ Lollapalooza
Sat. Aug. 13 — Fort Collins, CO @ Bohemian Nights at 262 E. Mountain Ave.
Music has always been a part of my life. It probably all started listening to old Grateful Dead, Peter Paul & Mary, and Simon & Garfunkel records that my parents had, but it wasn't long before they were taking me to concerts like Starship, Crosby, Stills & Nash, and Huey Lewis & The News. I got the bug to write about music after reviewing an Eric Clapton concert for a creative writing project in high school but didn't really take it up seriously until 2002. Since then I have published countless articles in The Marquee Magazine and done some work for Jambase.com, SPIN Magazine, and various other outlets. I started Listen Up Denver! as a way to share the music information that is constantly spilling out of my head with people who care. Please enjoy!