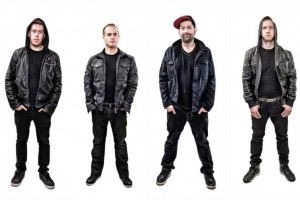 The Scene: Conspirator returned to the Aggie Theater for a Friday evening show that featured zero liquor sales and a modest crowd.  Following recent transgressions, the Aggie was recently bared from selling liquor for five days. Unfortunately, as soon as many people saw these ominous signs on the doors of the venue they immediately turned around and headed for nearby bars instead.  Despite the lack of liquid courage in the venue, this ended up being a surprisingly beautiful evening as Conspirator's wicked jams were enough to ignite a small contingent of newcomers and die hard Disco Biscuits fans.
Opener: Signal Path. Denver's own Signal Path opened the show and, although I only caught the last few minutes of the set, it was clear the band has progressed a long way in the last few years.  I've always felt the trio of Ryan Burnett on guitar, Damon Metzner on drums and Matt Schumacher on bass had to potential be a truly great jam act and it appears they have fine tuned their unique blend of improvised Electronica.  Though the energy was seriously lacking in Aggie at this point, Signal Path never seemed to let that distract them.
Conspirator: Conspirator is Marc Brownstein and Aron Magner (founding members of the Disco Biscuits), Chris Michetti of RAQ and Pendulum drummer KJ Sawka.  There was plenty of dancing room available as the band took the stage around 10:30 and launched headfirst into "Hammerdown" off their 2013 album Unleashed. The new album is a blistering mix of slamming improvised Dub-Step and heavy-duty rock and the audience was treated to the entire album including "Pow Wow," "The Commish," "Accent," and "Tumbler."
I've come to know Conspirator as an up and coming electronic act (they played a set at Ultra Music festival in 2011) so it was refreshing to hear a set that was more focused on the bass and keyboard skills of Brownstein and Magner rather than overdone production.  Despite all the new material, there were no shortage of classic Conspirator tracks including "Countach," "Orch Theme," "Velvet Red" and "So Much More" which can all be found on the 2012 release, Unlocked – Live From The Georgia Theater. This was a lengthy show that saw the band party hard till 2 AM.  The set-list featured a number of other gems including "Gypsy Lane" and "Retrograde" which spun the smallish crowd into a dancing frenzy.  Throw in a funky cover of Major Lazer's "Jah No Partial" and you have an excellent way to kick off the weekend.
Energy: B+
Musicianship: A+
Sound: A
Stage Presence: B+
Set/ Light show:  B+
Overall: B+

I've worked various positions in the music industry with Madison House, Rock The Earth and Bohemian Nights. My dream is to travel the world and seek out all the good tunes, beer and food that make life so special. I have a healthy obsession with live music and I'm thrilled to share the epic moments with you.