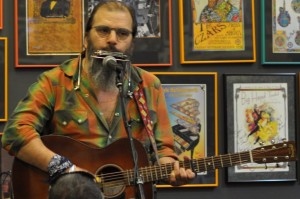 All Photos by Tim Dwenger
The Scene: This was a one of those in-stores at Twist where if you had purchased Earle's new album at the store you received a wristband for the event and you were let into the room before those who didn't have a wristband.  As we had not bought the album, we waited for the hundred or so wristband wearers to file into the room before we made our way in behind them, ending up about 12 or 15 feet from the stage in the small performance space.
From teenage girls (one of whom turned out to be Earle's niece), to folks in their 60's and 70's, to the Muppet in the balcony, the wide variety of Earle's fans who showed up was a testament to the kind of mass appeal his songs have in our world today.
Steve Earle: Earle was introduced just a few minutes after seven and came out strumming a Bouzouki, the first of four instruments he would play throughout the 45 minute performance.  It wasn't long before Earle broke the political ice when he introduced his "City of Immigrants" by half joking "I feel I've got to play this song every time I'm in a state that's home to a river that ends in a vowel."
He then turned his attention to his new record for a second and told the story behind it's title, and the title of his new novel that's recently been released, I'll Never Get Out Of This World Alive. It turns out that the title is a reference to the last song that Hank Williams released before he died; a song that subsequently became a number one hit.  This led into a brief commentary on the current state of the music industry as Earle's version of Williams tune is not on the physical version of the album, and is only available as an iTunes download and on a 7″ that was released on record store day.  He closed the speech with one of the most entertaining quotes of the night when he said "we used to make records for girls, now we make them for nerds," and jumped right into the song.
He followed Williams song with a track that actually made the physical version of the album, "Every Part of Me."  He wrote the tender ballad when he was on tour in Europe without his wife Allison Moorer for the first time in years, and had rediscovered how lonesome it could be to be without her.
Earle's storytelling continued throughout the set, but turned a bit more serious before he played "Jerusalem" when he focused on the recent killing of Osama Bin Laden.  He stressed how bad it is for us as a country when our citizens celebrate the killing of another human being.  Sure there are many viewpoints on this topic, but Earle made his feelings clear and went from "Jerusalem" into another highly relevant song "Little Emperor," from the new record.  The latter song is a well aimed shot at George W. Bush that is worth a listen.
Earle got off the soapbox for the last two songs of the set and closed things out with a great rendition of his legendary "Copperhead Road" and the song that he wrote for HBO's Treme, "This City."  All in all it was a  great opportunity to see a legend up close and personal and Earle's banter made it worth our while in every way.
Energy: B
Sound: B
Musicianship: B+
Stage Presence: A
Set/Light Show: N/A
Overall: A-
Music has always been a part of my life. It probably all started listening to old Grateful Dead, Peter Paul & Mary, and Simon & Garfunkel records that my parents had, but it wasn't long before they were taking me to concerts like Starship, Crosby, Stills & Nash, and Huey Lewis & The News. I got the bug to write about music after reviewing an Eric Clapton concert for a creative writing project in high school but didn't really take it up seriously until 2002. Since then I have published countless articles in The Marquee Magazine and done some work for Jambase.com, SPIN Magazine, and various other outlets. I started Listen Up Denver! as a way to share the music information that is constantly spilling out of my head with people who care. Please enjoy!