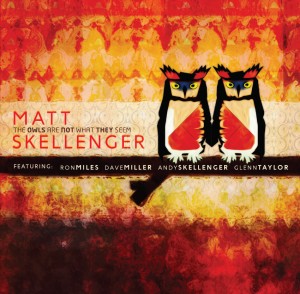 Matt Skellenger, one of Denver's most talented musicians, has returned with his third album, The Owls Are Not What They Seem.  The interesting and vaguely ominous title is a quote from season two of the 90's TV show Twin Peaks and fittingly the album explores themes of duality and the number 2.  In addition to Skellenger on the electric bass, the album features Dave Miller and Andy Skellenger on percussion, Glenn Taylor on pedal steel and renowned Denver trumpet player Ron Miles.  Over the course of the album's ten tracks Skellenger presents a rich and sonically complex collection of music that challenges the listener as the ever present bass weaves in and out of Miles trumpet lines and spars deftly with the percussion.
Early on in the record "Cyclical Dream" spirals it's way from a beautifully melodic beginning into great solos from both Miles and Taylor before gently setting the listener down into the solo bass introduction to  "Levitation."  A little later "Dusk" features some inspired playing from Miles and one of the best bass solos on the record as it eloquently captures the sometimes melancholy feeling of slowly being enveloped by the night.  Firmly ensconced in darkness, "White Lodge" holds down the second to last slot on the album with an electronic beat edging up out of the background that eventually yields to a fierce and fiery Tabla duet to create a track that would intrigue many of today's EDM fans.  As the album draws to a close "It Is Happening Again" features a heavy rock riff and, as elements of Eastern music weave their way into the mix, Skellenger yet again shows he isn't afraid to bend genre boundaries in his compositions.
The Owls Are Not What They Seem may be filed under "Jazz," but it is difficult to pin any specific genre tag on this record.  The music flirts with many different styles as Skellenger's talented fingers dance on the neck of the instrument to create incredibly complex rhythms and melodies.  With each passing track Skellenger's mastery of his instrument is consistently amazing.  Flurries of plucked or slapped notes are followed by delicately balanced harmonics that float above an intricate fret tapping solo.  He has studied under some of the most influential musicians to ever play the electric bass including Victor Wooten, Steve Bailey and Chuck Rainey and though their influences are clear, Skellenger has honed his own unique and inspired style of playing over the years and this album is just another step on what is sure to be a long and successful career for this talented musician.
Matt Skellenger Will Celebrate The Release of The Owls Are Not What They Seem On Saturday April 6th At Dazzle Jazz Club
Two Shows @ 7 & 9pm
PURCHASE 7PM TICKETS
PURCHASE 9PM TICKETS
Music has always been a part of my life. It probably all started listening to old Grateful Dead, Peter Paul & Mary, and Simon & Garfunkel records that my parents had, but it wasn't long before they were taking me to concerts like Starship, Crosby, Stills & Nash, and Huey Lewis & The News. I got the bug to write about music after reviewing an Eric Clapton concert for a creative writing project in high school but didn't really take it up seriously until 2002. Since then I have published countless articles in The Marquee Magazine and done some work for Jambase.com, SPIN Magazine, and various other outlets. I started Listen Up Denver! as a way to share the music information that is constantly spilling out of my head with people who care. Please enjoy!