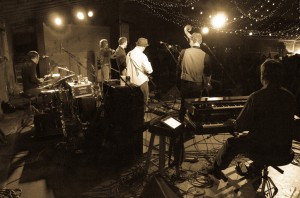 Photos by Clark Hodge
The Scene: The always magical season of music at the Planet Bluegrass Ranch was kicked off in a proper boot stompin' manner last Friday night when local dance-grass outfit WhiteWater Ramble took over the Wildflower Pavilion. Not only was this the start of another year of amazing Bluegrass at the ranch, it marked the release of WhiteWater Ramble's newest studio album: Roots & Groove.
Opener: Caravan of Thieves. An acoustic four piece fresh from Connecticut, Caravan of Thieves took the stage as the clock struck 8PM. Seats were set up both on the left and right of the pavilion with a large floor for dancing in the middle. A small group of revelers imbibed around the first bonfire of the season as the seats slowly filled. Although not many got up to dance, you could tell by the tapping of toes and bobbing of heads that all ears were focused on the stage.
This band has nestled themselves neatly between Gypsy Jazz, Balkan Busking, and harmonious Indie-Folk and their set ranged from a melodic serenade to dust kicking knee slapping dance numbers. The violin painted landscapes and set a tone capable of taking you far from the front range and dropping you on an Eastern European street corner.
Behind the band sat a drum set, the likes of which are not commonly seen. Five gallon buckets were tied to poles with pots and pans right out of your mother's kitchen dangling from them. The classical guitar coupled perfectly with each voice creating harmonies that were likely heard and enjoyed even by the folks enjoying the night on the front porches neighboring the venue.
Though the sound didn't lend itself to much dancing, I still found the music to be a perfect way to prepare for the sounds of WhiteWater Ramble. Caravan of Thieves surely impressed the crowd with a sound most easily described as romantic and modern.
WhiteWater Ramble: With Patrick Sites leading WhiteWater Ramble for over 8 years now on mandolin, their one-of-a-kind in-your-face Dance-Grass sound has become a main stay on the Front Range and in Colorado as a whole. With a sound that is ever evolving, the current line-up has recently released Roots & Groove and Friday night was the official release party for the Front Range, and a party it was.
The open space between the chairs filled in quickly as the band took their place at the front of the room. The set started with "Mr. Bankman," an American ballad that puts "The Man" in his place and from that point on it was a non-stop dance party. Little children darted in and out of the crowd, fellas dipped and spun their ladies in the front, and some of the best dance moves this side of the St. Vrain river were showcased.
Being that it was the release party it was no surprise that WWR played a number of tune not yet heard by the general public but that didn't change the intensity of the feet grooving on the floor. The new album dives deeper into the world of Americana roots with ballads of being on the road and songs of lovers scorned. All the while they stay true to their groovy sound of the past with a high energy stage show that even features their bassist balancing on his massive instrument high above the rest of the band and harmonies that dive right into your soul leave you stunned.
With songs such as "Standard Deviation," a reggae sounding up-beat jam, WWR proves that they are not only a traditional Bluegrass band but that their sound spans multiple genres without becoming convoluted or hard to keep up with. Their performance last Friday night was more proof that these guys are a group to keep your eyes on. Sounding tighter than ever, overflowing with confidence and full of enough charm to keep you smiling all night, WhiteWater Ramble is sure to continue rising in the ranks of the Colorado Jam-grass elite, which is far from an easy task.
Energy: A
Musicianship: A-
Sound: A
Stage Presence: B+
Set/Light show:  C
Overall: A-
I rode my skateboard from school in 7th grade to my buddy Vince's house where he put on the song "Perfect Government" by NOFX and I was hooked. The next day I bought the album Duh by Lagwagon. The next year I saw Against Me! at the Starlight Theater in Fort Collins, my mom dropped me off. I've since devoted every waking hour to anything done with passion. My speakerbox bumps everything from Lil' Wayne to Pablo Casals. I was never very good at making music, but I am damn good at listening to it. I've been filling up yellow notepads with random thoughts and misspelled words for as long as I can remember. I enjoy whiskey of all sorts, Newport cigarettes and the company of my family. I've got an addiction to run-on sentences that I'll probably never cure. A solid handshake with a stranger who has become a friend over a few beers means the world to me. You'll often find me wide eyed and wandering with an ear to ear grin. I live for funky break beats and spreading the love.