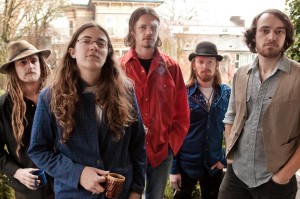 Enter To Win Tickets To See Fruition On Saturday April 13 at Cervantes' By Posting:
"I Wanna Party With Fruition On Saturday" on the Listen Up Denver! Facebook Wall
Why You Should Go: Drawing sustenance from the deep roots of traditional American music, Fruition has grown from a sapling quartet of street musicians to towering oak of musical energy. Priding themselves on an eclectic musical palette that transcends their American roots instrumentation (upright bass, guitar, mandolin, banjo), they inspire audiences to live, love, dance, and sing at every show. Hearts will be broken, mended, then uplifted by the soulful, heartfelt lyrics of these modern day troubadours. Stomp your feet and raise your glass, 'cuz this ain't your pappy's bluegrass.
In November, 2011 Fruition released a new EP, It Won't Be Long, the third album for the quintet based in Portland, Oregon. In seven original songs, Kellen Asebroek, Mimi Naja, and Jay Cobb Anderson conspire to blend raw, live energy with the strings of traditional Folk-Americana. Supported by Keith Simon on upright bass, and Tyler Thompson on drums, Fruition succeeds with lyrical prowess and vibrant harmonies.  Fruition will be joined by Colorado favorites Trout Steak Revival, making this bill a must see!
Venue: Cervantes' Other Side, 2635 Welton Street, Denver, CO 80205 – 303/297-1772
Doors: 8:00 pm. Show starts at 9:00 pm
*Price: $8.00 ADV $10.00 DoS
Buy Tickets
*All prices are gathered from other sources and we are not responsible for mistakes or inconsistencies. They are intended only as guidelines. Please, always call the venue if you desire the most accurate information possible.