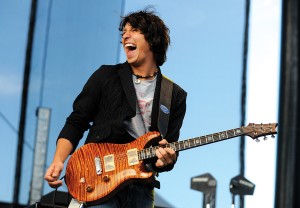 Why You Should Go: 22 year old guitar prodigy Davy Knowles has been turning heads on both sides of the pond for several years now.  Hailing from the tiny Isle of Man in the UK, Knowles incendiary guitar style has earned comparisons to legendary guitarists ranging from Stevie Ray Vaughn to Jimi Hendrix.  Propelled by a fierce version of the classic "Outside Woman Blues" made famous by Cream in the late 60's, his first album, Roll Away, exploded onto the blues scene in 2007 and put his name on the radar of critics and fans alike.
In addition to serious guitar chops, Knowles possesses an improbably mature and weathered voice for such a young man. This only adds to his credibility in the music world as he howls and barks the blues like he has lived them for decades upon decades.  His 2009 release Coming Up for Air, picked up where Roll Away left off and throws the listener straight into the fray with the powerful one two punch of the title track followed by the arena ready, train wreck anthem, "Riverbed."
Though his albums are very solid, it is damn near impossible to catch lighting in a bottle and the only way to truly experience what Knowles is capable of is to see him live.  Pete Townshend and The Who have invited him to share their stage, as has Jeff Beck, Buddy Guy and modern Jam guitar titan, Warren Haynes.  The kid keeps good company, and if there is any justice in the world his name will soon be mentioned in the same breath as any one of these legends.
Venue: The Fox Theatre 1135 13th Street, Boulder, CO – 303.443.3399
Doors:
9:30 PM
*Price:
$20 ADV
$23 DoS  (+$2 if under 21)
PURCHASE
*All times and prices are gathered from other sources and I am not responsible for mistakes or inconsistencies. They are intended only as guidelines. Please, always call the venue if you desire the most accurate information possible.

Music has always been a part of my life. It probably all started listening to old Grateful Dead, Peter Paul & Mary, and Simon & Garfunkel records that my parents had, but it wasn't long before they were taking me to concerts like Starship, Crosby, Stills & Nash, and Huey Lewis & The News. I got the bug to write about music after reviewing an Eric Clapton concert for a creative writing project in high school but didn't really take it up seriously until 2002. Since then I have published countless articles in The Marquee Magazine and done some work for Jambase.com, SPIN Magazine, and various other outlets. I started Listen Up Denver! as a way to share the music information that is constantly spilling out of my head with people who care. Please enjoy!