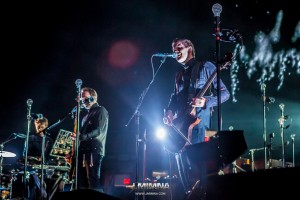 Photos by Jim Mimna
The Scene: An evening of inspirational melodies and passionate playing was brought to Colorado last Saturday night. We were lucky to have Sigur Rós in town, as they offer music to the world that is unlike any other band. This wasn't a show that would be filled with dancing or socializing. It wasn't even as much a concert as it was an experience. A quiet crowd filled the 1st Bank Center, and it was hard to tell who was with whom, as everyone seemed focused on their own individual journey with the immensely breathtaking and transporting vision that is Sigur Rós.
Sigur Rós: Building the mystique of Sigur Rós, the band opened the show obscured by a veil that hung from ceiling to floor. We experienced the first two songs only seeing shadows of the musicians behind the sheer veil, the spotlight occasionally blowing up the shadows of individual performers giving them a gothic and wraithlike presence. This theatrical introduction set the stage for a powerful moment when the veil dropped midway through "Vaka," eliciting joyful cheers from the crowd.
If you are familiar with Sigur Rós, the ambient rock band from Iceland with a sound described as melodic, atmospheric, and quite simply – beautiful, then you would expect that seeing their live show would leave you feeling inspired. Having been a fan of this band for almost a decade, but never seeing them perform live before Saturday night, I definitely had that expectation. What I left with was much more than inspiration. A mind-blowing explosion of sounds, lights, feelings, and movements left an impression that was other-worldly and generated a warm feeling of tearful passion and soul-stroking. While lead singer Jónsi Birgisson would start out each song with his signature falsetto voice that is unbelievably angelic, the backup vocalists lingering in the shadows at the back of the stage added an equally stirring element to the band's sound.
As perfect as their sound is to our ears, the performance wasn't flawless. Tiny imperfections like a slip of the fingers from the pianist on "Hoppípolla" was noticeable, but evermore beautiful to hear as it made us aware this was not a pre-recorded performance…and could you blame us for considering it might be? The ethereal beauty of this band's sound is unlike any other and unbelievable, especially when experienced live. Glorious vocals that are powerful, majestic even, and supported Saturday night by brass and string sections, as well as hard-rocking guitar playing that shakes you, moves you, and elevates you to a place well above your own consciousness.
Dancing in tandem with the sounds onstage, Sigur Rós put on an incredible live show with dreamlike visuals projected on a massive screen that spanned the entire length of the stage. Bodies floating toward the sky, huge images of young children's faces, live footage of the band, fireworks, plants coming to life, and unearthly creatures were just a few of the images flashing across the screen, leaving each person in the audience to interpret them in whatever way their imagination led them.
Considering the only words I could understand throughout the show were "thank you," which Birgisson expressed to the crowd after almost every song, it was nice when he paused before starting the much-loved "Hoppípolla" to sing "Happy Birthday" to bass player, Georg Hólm. We were invited to sing along, "but it's got to be in Icelandic," Birgisson said, and the crowd sang along as best we could. The mysteriousness of Sigur Rós is so intriguing and leaves much to the imagination. It brought a smile to my face to sing along to a familiar tune with a band who often seems like they are from another planet, with lyrics that transcend anything I can understand and instruments that are even much different than most American bands.
The only disappointment of the night was when the lights came on, as the two-hour show seemed to go by quickly. The final song of the encore, "Popplagið," had the crowd on their feet. For me, it was the peak of the night, as the combination of strings, percussion, and vocals were dancing perfectly in tandem and creating an incredibly commanding and tribal sound.
Setlist: Yfirborð, Ný Batterí, Vaka, Hrafntinna, Sæglópur, Fljótavík, E-bow, Varúð, Hoppípolla, Með Blóðnasir, Olsen Olsen, Kveikur, Festival, Brennisteinn
Encore: Glósóli, Popplagið 
Energy: B
Musicianship: A
Sound: A-
Stage Presence: B+
Set/Light Show: A+
Overall: A-
After growing up in Missouri listening to vintage records of The Allman Brothers, Carly Simon, and Stevie Ray Vaughan, I was hooked to the live music scene and the contagious sounds of guitar licks and soulful lyrics. After moving to Colorado, I've been contributing to Listen Up Denver! as a freelance photographer and writer. I've also started a side project, KellYeah Photography, which gives me the opportunity to pair my passion for live music with my creativity and love of being around people. Aside from photography and writing, I'm an avid hiker of Colorado 14ers and a beer enthusiast.