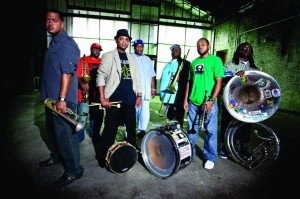 Why You Should Go: Imagine blending the sounds of Mardi Gras funk, soft rock, and reggae so seemingly it defies category. Now shrink that idea into a seven-piece ensemble, add a Hip-Hop sensibility plus a hundred years of New Orleans Jazz tradition, and you get the Louisiana sound known as the Soul Rebels. This shrewd crew of college trained multi-instrumentalists are forcing listeners to "Let Your Mind Be Free" as they "Work It Out" on the dance floor. Their music is utterly uplifting and hardcore, leaving fans with a myriad of intrinsic sounds and songs to enjoy.
This Friday, New Orleans' Soul Rebels and Denver's Strange Americans will help our good friends at the Marquee Magazine celebrate  their 10 Year Anniversary at Oskar Blues Grill & Brew in Lyons, Colorado! Enjoy awesome live music, tasty local Oskar Blues brews, soul-fillin' southern food, and raffle prizes. Raffle proceeds benefit Rock the Earth, an organization that works closely with the music industry and its fans, many of whom are concerned with the fate of our public lands, air and water. Rock the Earth advocates the existence of a sustainable and healthy environment for all. Soul Rebels will also be joining The Motet at The Fillmore to ring in Colorado's favorite holiday, 4/20! This is a weekend of must see music!
Venue: Oskar Blues Grill & Brew
 – 303 Main St – Lyons, CO 80540
Doors: 7:00 pm. Music starts at: 8:00 pm
*Price: $20.00 Adv, $25.00 DoS
Buy Tickets
*All prices are gathered from other sources and we are not responsible for mistakes or inconsistencies. They are intended only as guidelines. Please, always call the venue if you desire the most accurate information possible.