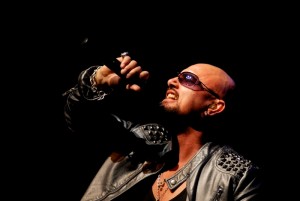 Photos by Todd Radunsky
Last Thursday the Geoff Tate version of Queensryche rolled through The Paramount Theatre in Denver leaving a mass of sweaty, graying, longhairs in their wake.  It's been about a year since Tate was fired from the band he helped to found and due to an altercation backstage in Brazil and he's put together a new band consisting of Rudy Sarzo, Bobby Blotzer, Glen Drover, Kelly Gray and Randy Gane.  They delivered a set chock full of Queensryche classics including "I Don't Believe In Love," "Jet City Woman," and of course "Silent Lucidity."  This version of the band will put out a new album on April 23rd.
Setlist: I Remember Now, Anarchy-X, Revolution Calling, Operation: Mindcrime, Speak, Drum Solo, Spreading the Disease, The Mission, Suite Sister Mary, The Needle Lies, Electric Requiem, Breaking the Silence, I Don't Believe in Love, Waiting for 22, My Empty Room, Eyes of a Stranger
Encore: Silent Lucidity, I'm American, Best I Can, Empire 
I work in the music industry photographing bands live and offstage for publicity. My work includes shooting concerts, festivals, and portraits of musicians and bands. I shoot for promoters, record companies, publicists, magazines, band managers, and individual musicians. I also photograph weddings, and portraits and have traveled the world to do so. I've shot weddings in Cali, Ireland, Mexico, Cape Cod, and Amsterdam to name a few.