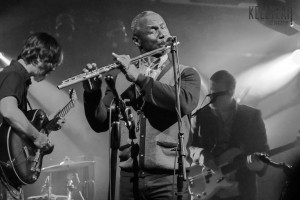 Photos by Kelly Hueseman
The Scene: It felt like the late 70s in the shadowy neighborhood of Five Points last weekend. The Greyboy Allstars were in town in support of their new album, Inland Emperor, which dropped this week, and the crowd filled in fast and early at Cervantes' Masterpiece Ballroom on both Friday and Saturday night. A vintage feel with new songs was the name of the game on both nights.
The first night of music was supported by Dumpstaphunk, releasing their new album, Dirty Word, in early summer, and The Congress from Denver opened the night on Saturday, also releasing new music via The Loft Tapes, that also dropped this week. All three bands have a strong following and have been touring extensively, so anticipation hung heavy in the air and we were in for two great nights of music.
Friday Night Opener: Dumpstaphunk.  After grabbing a drink and making my way to the dance floor on Friday night, I quickly realized I'd need to put the drink down because New Orleans-based Dumpstaphunk stirred the room into a dizzy frenzy of Funk that made dancing not just an option, but a necessity. The floor was packed, and sweaty bodies jumped up and down, especially when gritty vocalist and drummer Nikki Glaspie took the mic with a fist full of angry Funk, belting out lyrics such as "I'm gonna seduce you." She was a force to be reckoned with, and held her own behind the high caliber of talent on stage.
In sum, Dumpstaphunk is pure fun, funk, and groove. They did an incredible job supporting The Greyboy Allstars as every level of the 1,000-person room was packed tight by the end of their set. Leaving us with a strong taste of what New Orleans music does best, Dumpstaphunk ended their set with a song that oozed of originality and beckoned everyone in the crowd to leave their worries at the door. "Put it in the dumpster!" was shouted in unison by all of us throughout the song, and the phrase was even woven into conversation throughout the night. It's memorable quips like this one and bass-heavy dance music that differentiates the 10-year old band from The Big Easy from the music grown here in Colorado.
Saturday Night Opener: The Congress.  I always appreciate when a two-night run from a band is supported by two very different openers. The up-and-coming pride of Denver, soulful rock band The Congress effortlessly delivered a set of music Saturday night that was a refreshing contrast to the opening set the night before. It's been said before, but vocalist Jonathan Meadows continues to impress with singing that comes easy and mirrors the smooth velvet of Levon Helm's voice.
What sets this trio apart is the uniqueness of each musician.  in addition to those musta-been-born-with-it vocals, are tribal rhythms from drummer Mark Levy that were a perfect way to ease into the boogaloo-influenced music we were about to hear from The Greyboy Allstars, and gifted guitar playing from Scott Lane. The controlled wildness with which Lane plays his guitar lends a free-and-easy style to round out the band's moving sound. While many Colorado bands are releasing original material, the new EP from The Congress features a handful of covers ranging from Roberta Flack's "Killing Me Softly" to Marvin Gaye's "What's Going On," both of which were included in their Saturday night set, along with a medley including Michael Jackson's "Man in the Mirror" and a tender version of "You've Got a Friend," written by Carole King. The slow dancing quickly commenced when Mississippi-born Robby Peoples took the mic for a tangy, snarly version of "Mama Please," which nodded to Peoples' Delta blues roots and showcased the Southern Rock influence of The Congress.
The Greyboy Allstars: Although the openers on both nights proved they are forces to be reckoned with, The Greyboy Allstars are, and have been, one of the tightest bands around for two decades. Warming up the crowd in his bright red cardigan on Friday night, front man Karl Denson pulled out all the stops and quickly reigned the crowd into a psychedelic trance with his incredibly powerful saxophone playing and perfectly timed use of other instruments that add to the band's dynamic sound. Sweet riffs on the flute, groovy rhythms from his Shekere, and powerful vocals that come quick and loud are just some of the ways Denson has developed a persona all his own in the industry.
Rocking a different cardigan each night, Denson's unique style and intoxicating joy was addicting. My friend and I found ourselves wanting to be as near to the stage as possible all night, as the facial expressions and incredible talent from the band was exhilarating. After ending Friday's set with the Sam Gambarini Hammond Trio's "Duffin' Around," people wasted no time leaving to rest up for night two.
Although the room was fuller on Friday night, Cervantes' turned into a funkin' party on Saturday night. The room was filled with a heavy cloud of smoke (and we had more than the lighting guys to thank for that). Those of us who stayed planted in front of the legendary soul-jazz band from San Diego were all mesmerized.
As I grooved along with the music, an older man next to me mentioned how much The Greyboy Allstars reminded him of The Doobie Brothers back in 1977. It took me a minute to realize, but he might have been on to something. The music we were hearing, especially Saturday night, was harmonic and cerebral in its approach to Funk and Jazz, which could have been influenced by The Doobie Brothers' late 70s EP, Livin' On The Fault Line. Whatever the influence, The Greyboy Allstars are influencing a new generation of music. From upstairs, it was impossible to ignore Chris Stillwell's bass, which shook the entire room. We didn't have a good view of Robert Walter, but he made sure we heard him, and continued to peek over his organ to wink and smile at the ladies in the front row.
It's pretty incredible to be writing about veteran musicians who could still be around for many years. Every time they're in town, they surprisingly sound tighter and tighter, and as time goes by, the soulful sounds of their music gets deeper and deeper.
Energy: A
Musicianship: A+
Sound: A+
Stage Presence: A
Set/Light Show: A
Overall: A
After growing up in Missouri listening to vintage records of The Allman Brothers, Carly Simon, and Stevie Ray Vaughan, I was hooked to the live music scene and the contagious sounds of guitar licks and soulful lyrics. After moving to Colorado, I've been contributing to Listen Up Denver! as a freelance photographer and writer. I've also started a side project, KellYeah Photography, which gives me the opportunity to pair my passion for live music with my creativity and love of being around people. Aside from photography and writing, I'm an avid hiker of Colorado 14ers and a beer enthusiast.