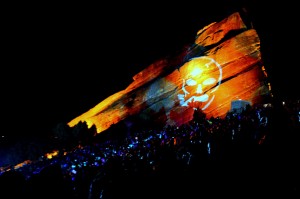 Photos by Johne Edge
The Scene: Ahh 4/20 in Colorado, you can smell it in the air!  With the recent passing of Amendment 64 Colorado has become a hot spot for all things "4/20 friendly" and this past weekend was a prime example.  From the first ever Cannabis Cup hosted on U.S. soil, to Snoop Lion's performance Friday night, to this amazing line up; Colorado has taken their stance on recreational Marijuana use and the word is out.
A sold-out show at Red Rocks is an impressive feat for anyone anytime, however it's particularly noteworthy on 4/20, in Colorado, with at least a dozen other great shows across the Front Range.  Not to mention the ahem "recreating" that had been taking place throughout the day.  I was glad to see so many like-minded people had been able to make it to the rocks, and the vast majority of them on-time even.  Stumbling up the stairs I made my way into a packed Red Rocks Amphitheater just in time to catch the opening act, San Diego's own Tribal Seeds.
Opener: Tribal Seeds. Slightly Stoopid brought some home town boys with them for this special engagement which made perfect sense because Tribal Seeds' unique blend of Reggae bleeds with influence from the likes of Bob Marley, Steel Pulse, and Midnite to get the people moving regardless of their full day of recreating.  Brothers Steven Rene Jacobo (Lead Vocals/Guitar) and Tony-Ray Jacobo (Production/Keyboards/Vocal Harmonies) led the way in getting the crowd warmed up for a night full of dancing, music, and of course…recreation.
Cypress Hill:  Stopping by for their first visit to Red Rocks this season, B-Real, DJ Muggs, Eric Bobo, and Sen Dog wasted no time amping up the crowd for what was shaping up to be a great night.  DJ Muggs' notable spooky sounds and stoned aesthetic, with its bass-heavy rhythms and odd sample loops alongside B-Real's exaggeratedly high-pitched nasal vocals contrasted effortlessly against Sen Dog's deep, strong vocals to create a set I will never forget.  If you missed them this time don't panic, Cypress Hill will be back for a second stop at Red Rocks Monday July 29th with G. Love and 311 for this summer's Unity Tour.
Slightly Stoopid:  One of the best interviews I've had the pleasure of doing was with these boys on their bus in the middle of the Ozark mountains in Arkansas during Wakarusa 2012 [Editor's Note: Read that review here].  I was a little uneasy, however, with a pre-conceived notion that they were either going to come at me with a vaporizer (oh no!!) or a ping pong paddle for an impromptu game of ping pong that percussionist O.G. and I had joked about last year.   Luckily for me I don't think they could pick me out in the sold-out crowd.
Miles and Kyle wasted no time leading the rest of the band through a crash course of old and new material that had the entire amphitheater moving.  It was great to see Karl Denson up there alongside DeLa as well, because the only thing better than one sax man, is two.  I hadn't seen these two collaborate since the Beastie Boys tribute show at the Boulder Theater last year and it took me right back.  Also in tow, Marlon Asher (Trinidadian reggae singer) came out early on in the set to lend vocals on "2am" a pleasant little jam off the Chonchitis album.
Their set carried on and I felt as if I was in Corona commercial; each wave that crashed against the beach was another heartwarming, memory evoking, Slightly Stoopid tune.  Closing out their set the same way I remember them doing so at Wakarusa last year, Kyle released his inner Charles Wright for a powerful rendition of "Express Yourself."  All recreation jokes aside Slightly Stoopid is the music that takes me to a higher place in times of herbal abstinence.
Energy: A+
Musicianship: A-
Sound: A
Stage Presence: A
Set/Light Show: B+
Overall: A
In a day and age where music plays as big of a role in shaping who we are as our parents do, I have my parents to thank for how I turned out – musically inclined at least. Growing up in a house with music literally stacked to the ceiling, I remember swiping an array of albums from my parent's collection, only to be called out on it once they wanted to listen to one. As I grew so did my taste in music, which now encompasses everything but pop-country (I just can't do it). So whether its electro-funk or dub-step, punk rock or hip-hop, jam-grass or reggae, you can catch me there, loving life and the beautiful sounds that surround us in it.