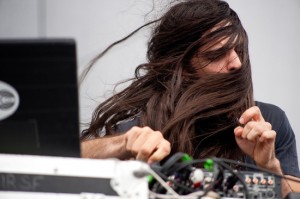 If you want to get behind the scenes and work as crew at Bassnectar's Red Rocks show on June 18th, and you can 10000% commit your time from early in the day until after the show is over, post up your audition to the Bassnectar Facebook Wall.
It can be photo, video, and/or text, answering 2 questions:
WHAT in your past qualifies you to represent Bassnectar as a responsible, *SOBER*, outgoing, motivated Ambassador?
HOW will being an Ambassador make you a better person?
Your friends can also post testimonials of your qualifications.
Being an Ambassador is a big commitment, and puts you at the heart of a Bassnectar event. Please make sure that you are ready to be a sober, responsible representative of our Bass Community before you audition to participate. Ambassador duties include creating ambiance through various antics, monitoring the crowd for health and safety, and hydrating the crowd by pouring water in people's mouths.
Auditions end Sunday, May 15th at high noon, MT.
Bassnectar is excited to bring Ambassadors to Red Rocks, and and thrilled to make some additions to the Ambassador family!

Music has always been a part of my life. It probably all started listening to old Grateful Dead, Peter Paul & Mary, and Simon & Garfunkel records that my parents had, but it wasn't long before they were taking me to concerts like Starship, Crosby, Stills & Nash, and Huey Lewis & The News. I got the bug to write about music after reviewing an Eric Clapton concert for a creative writing project in high school but didn't really take it up seriously until 2002. Since then I have published countless articles in The Marquee Magazine and done some work for Jambase.com, SPIN Magazine, and various other outlets. I started Listen Up Denver! as a way to share the music information that is constantly spilling out of my head with people who care. Please enjoy!