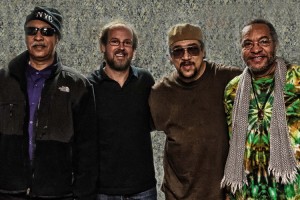 Why You Should Go: It's no stretch to say that The Meters single-handedly defined New Orleans Funk. Performing and recording their own music throughout the latter half of the '60s and into the '70s, this seminal group laid the foundation for what is now a ubiquitous genre, influencing countless Funk musicians with their earthy, down-home style. Formed in 1965, the original Meters lineup featured keyboardist and vocalist Art Neville, drummer Joseph "Zigaboo" Modeliste, guitarist Leo Nocentelli, and bassist George Porter Jr. The band has worked backing artists like Dr. John, Robert Palmer, Lee Dorsey, and even Paul McCartney. The Meters' sound also provided a jumping off point for much of the Hip-Hop of the '80s and '90s, with rap luminaries like LL Cool J, Big Daddy Kane, Run DMC, Ice Cube, Public Enemy, A Tribe Called Quest, and more sampling the band's tracks.
The Meters broke up in 1977, and all of their members went on to find significant success elsewhere in the music business. But this Friday and Saturday at Denver's Ogden Theatre, Nocentelli, Modeliste, and Porter reunite as "The Meter Men" and join forces with Phish keyboardist Page McConnell – a musical titan in his own right – for a historic and funky night of music sure to please and not to be missed!
Venue: The Ogden Theatre, 935 E. Colfax Ave Denver, CO 80218 – 303-832-1874
Doors: 8:00 pm – Showtime: 9:00 pm
*Price: Adv – $39.95, DoS – $45.00
Buy Tickets
*All prices are gathered from other sources and we are not responsible for mistakes or inconsistencies. They are intended only as guidelines. Please, always call the venue if you desire the most accurate information possible.