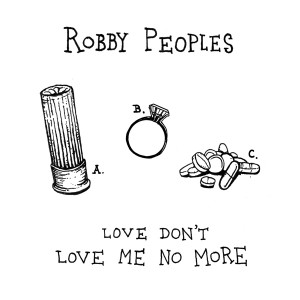 Robby Peoples new EP Love Don't Love Me No More has consumed me for the past 30 days. Peoples was never on my radar until recently catching him live playing with members of The Congress. Seeing his charismatic performance instantly made him a blinding blip on my screen, and his album was put in my hand shortly thereafter. I have spent the last month living with this album and trying to figure out the elements that add up to make this a record that could affect me so proudly.
The first thing I noticed about the album was it's simplicity. That word can confuse people into thinking the album is rudimentary or basic, possibly stripped down, but that's not the case here. It's simple because it's straightforward. The lyrics clearly convey a meaning in a vernacular most ears are not accustomed to. Peoples shoots from the hip and hits his mark dead on with a Mississippi swagger, a wink and a smile. He doesn't gussy things up, but communicates through rawness and reality.
Peoples has no set band that he plays with, but gathers from a large pool of killer Denver musicians for his gigs. When Peoples hit the studio, he invited The Congress to back him up…wise choice sir, wise choice. Jonathan Meadows (bass), Scott lane (guitar) and Mark Levy (drums) each contributed mounds of talent to this recording and played on it like it was there own. Robby Peoples comes at you like a hurricane and, when he is backed by The Congress, it turns into a Perfect Storm.
The album opens up with "Worst I Ever Had"- a monologue of sorts that puts a pair of dark sunglasses on the listener allowing them to easily see where the artist is coming from. Peoples occupied Delta front porches and barrooms before finding his way to Denver, dragging along a heavy sack filled with experiences lit by the moon and the gleam of Whiskey bottles.
"Mama Please" explodes through the speakers as Peoples freight train lyrics are bolstered by the raging power trio behind him. These four men were meant to play music together. Scott Lane's guitar has a powerful presence on this track, as well as everywhere else it goes. "River Girl" slows things down a bit and brightens things up as well. A bit bouncy, the song has a southern charm and the refrain will stick in your head for weeks, as it well should. "Pullin' Weeds" says a lot with a little, and its when we first get to really hear the angelic quality in bass player Jonathan Meadows voice. You get a good taste of Mark Levy's shuffle on the skins as well.
Peoples growls his lyrics with an air of truth that could only be achieved by experience. The realities and pains of living low on the hog and high on hard liquor are ingrained in each word, and Peoples sucks you into a world most have never crossed into. The only way someone can make an album like this is if they have been to hell and back, but missed the heat, and retraced their steps.
When I first heard "Shittin' Yella" I Googled the title to see if it was a cover tune. It just sounded so damn familiar. Not any riff, rhythm, or melody…but the feel of it. It felt like a well worn leather jacket that has been on my back for decades, but it was straight off the rack. I also had to Google what the term "Shittin' Yella" meant. I will save you that step, and inform you that the term refers to the color of a little babies poop. A little bit Country, but all Rock and Roll, "Shittin' Yella" is a sing along of anthemic proportions. The voices of Meadows and Peoples blend in some brilliant ways during the chorus and as the honey swirls with the Borbon, the sweet smell of the delta rises in the air.
The EP closes out with "Said He Gone,"  a hard driving declaration of the Blues that is rowdy and raw. Peoples is the genuine article. He speaks his mind, his pain and his pride in every line-and pulls no punches while doing it. Love Don't Love Me No More is a great collection of songs; there is no two ways about it. Now, I would consider this a "local" release because Peoples doesn't have national recognition yet, but he has certainly thrown his hat into the national ring with this one. Strong work Mr. Peoples…strong work.
Brian Turk grew up in the shadow of the Catskill Mountains, near Woodstock, NY. He comes from a family of music lovers, audiopliles, Dead Heads and avid concert goers.The musical magic that can only be created in the Catsklills, both past and present, is what Brian cosiders the epicenter of his music addiction. The music of The Band, and most recently The Levon Helm Band, is the soundtrack of home for him. Brian's mother took him to his first concert at 5years old...it was Johnny Cash and Roseanne Cash at Jones Beach Amphitheatre. For Brian, music is a family affair. He feels the same way about live music...we all convene to celebrate together. Brian's writing life started when he wrote his favorite author, southern fiction writer Clyde Edgerton, a fan letter at age 13. When most kids were idolizing baseball players and television, he was worshipping writers and musicians. The two became friends and Clyde shared his craft with Brian. The next year Brian attended Duke University's Young Writers Camp. This is the extent, of what Brian considers, his "formal" training in writing. From then on his goal was to capture snapshots of life through words. Brian has been involved with live music in various facets over the years, and combined with his enthusiasm and love for Denver's music scene, he creates a vivid description of what he sees and hears. If you see him out at a show, dancing with a notebook in hand, say hello.