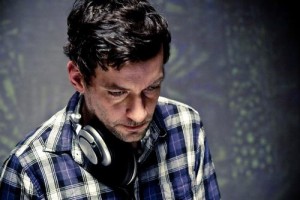 The Scene: The Bonobo live band made a quick trip to the Front Range last month for two shows with the second taking place at The Ogden Theatre in Denver.  When I arrived Colfax was already teeming with life. An interesting mix of hipsters and wildly knowledgeable music fans debating the merits of the new album lined up down the block for one of the most anticipated shows of the spring concert season.
I'm always amazed at what producer, DJ, and musician Simon Green conjures up and his newest creation under the Bonobo moniker is a subdued album entitled The North Borders.  It doesn't quite move as effortlessly as some of his previous works but it is full of interesting guest appearances and has a terrifically mellow vibe. What's undeniable is the fierce performance that Simon and his band bring every time they step on the stage.  Many people think of Bonobo as solely Simon Green's masterpiece but in reality it's with a full band and live vocalist where his music explodes to dizzying new heights.
Bonobo: The sold-out Ogden crowd was treated to a twenty song set that focused mostly on The North Borders with enough classic tracks to keep things interesting throughout.  It's comforting to know that Bonobo routinely chooses Denver as a stop on his tours because his performance seems to get better each time he rolls into town.  This time Simon was joined onstage by a plethora of musicians and instruments ranging from a saxophone and drum kit to a groovy string section that were on a tear throughout the evening. His newest vocal treasure Szjerdene whose voice is sprinkled all over The North Borders compliments the chillness of the band. The show was highlighted by a mid-set three-song jaunt through "Kong" "Ketto" and "Nocturary." These three tracks define what has made Bonobo so captivating over the years and had the crowd buzzing and swaying gently back and forth to the earthly beats.  The horn part on "nocturary" is particularly astounding as it bubbles and floats along for several minutes. This song seems to be one of their favorites to perform in a live setting and the crowd always appreciates this blast from the past.
Although the newest material wasn't quite as thrilling, this was still a classy performance from a refined live act. Simon Green performs plenty of DJ sets as Bonobo but it's with the live band where his musical direction really takes hold. With the live band Simon handles duties on the bass and controls many of the electronic elements in their performance. Watching the live creation of Bonobo's studio work is like watching a dream play out in slow motion. Their music is full of life and has a vivid almost ethnic-like personality with every note being accentuated to match the acoustics of the venue.
I highly recommend catching one of their shows because they are very few artists who are able to transform studio work into such a different and dazzling product on stage.
Setlist: Cirrus, Sapphire, Towers, Stay The Same, Heaven for the Sinner, Kiara, Ten Tigers, Kong, Ketto, Nocturary, First Fires, Nightlite, Recurring, We Could Forever, El Toro, Emkay, Transits, Know You
Encore: Keeper, Pieces
Energy: B+
Musicianship: B+
Sound: A
Stage Presence: B+
Set/Light Show: A
Overall: A-

I've worked various positions in the music industry with Madison House, Rock The Earth and Bohemian Nights. My dream is to travel the world and seek out all the good tunes, beer and food that make life so special. I have a healthy obsession with live music and I'm thrilled to share the epic moments with you.