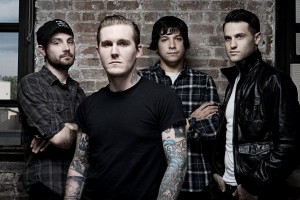 The Scene: Showing up on time for nearly anything, especially concerts is something that ranks very low on my list of life skills. Luckily, last Monday there was a strange occurrence. Somehow, I was convinced to show up early (at least for me), at roughly 9:30, to The Ogden Theatre for The Gaslight Anthem. I figure "Rock and Roll" shows don't even really get going until near midnight anyway. Approaching the Ogden I had an odd feeling, being that there was no line and only a hand full of cigarette smokers. Plus, I could hear the distinct sound of Brian Fallon's voice coming from inside the doors. Once past the ticket takers, and after obtaining a drink, I figured it would be easy to make my way to the stage. I quickly realized moccasins are not fit for mosh pits but still made a lap trying to secure a good spot. Alas, it was shoulder-to-shoulder everywhere with punk rockers, professionals, and damn near every other walk of life…all with eyes glued to the stage and feet tapping.
The Gaslight Anthem: It was clear by the end of the second song that at least ninety percent of the folks in the theater were more than just Gaslight hobbyists. Their sound is driving Rock and Roll with roots in Punk, yet still an ambiguous ode to most of the things that make up what I love about America.  It's a sound that can apply to anyone who has ever been smitten with love, heartbroken, or out all night imbibing to forget. Between Fallon's voice and the way he can make a complex theme seem so simple, it's hard not to dig into the archives of your soul with their anthemic songs as the soundtrack to your memories.
Everyone shows up to a concert with the hope of hearing at least one of your "favorite songs" by the band. All it took was a simple glance down from the balcony to see almost every pair of lips in the place mouthing along as if they wrote the setlist themselves to realize that every Gaslight song is someone's favorite.
For a long time now, The Gaslight Anthem has been one of those bands that define rather important moments in my life. That being the case, it is somewhat a challenge for me to approach writing this review objectively. With each song I can go back in time to exactly what was happening in my life when I had that song on repeat. I can tap right back into the exact emotions I was feeling while I danced around my house, or screamed the lyrics out of the sunroof on my car, driving down a dirt road or away from something. To hear them played live, with my eyes closed, it felt as if they were being played just for me. The chords and choruses sounding better than any mp3 or car speaker could ever do justice. As the beginning of "Blue Jeans and White T-shirts" filled the air, I couldn't help myself from letting out a tear or ten. That alone should be enough to convince you to pick up one of their albums, or catch them live.
By the end of the night over seven crowd surfers were carried on hands from the front of the stage all the way to the back of the room. Multiple blow up sex dolls bounced around the sea of people like popcorn kernels. They stretched the encore out much longer than anticipated before ending the show with "Backseats," another song you could hear for the first time and know that it will last forever.
Energy: A+
Musicianship: A
Sound: A
Stage Presence: B
Set/ Light show:  C
Overall: A

I rode my skateboard from school in 7th grade to my buddy Vince's house where he put on the song "Perfect Government" by NOFX and I was hooked. The next day I bought the album Duh by Lagwagon. The next year I saw Against Me! at the Starlight Theater in Fort Collins, my mom dropped me off. I've since devoted every waking hour to anything done with passion. My speakerbox bumps everything from Lil' Wayne to Pablo Casals. I was never very good at making music, but I am damn good at listening to it. I've been filling up yellow notepads with random thoughts and misspelled words for as long as I can remember. I enjoy whiskey of all sorts, Newport cigarettes and the company of my family. I've got an addiction to run-on sentences that I'll probably never cure. A solid handshake with a stranger who has become a friend over a few beers means the world to me. You'll often find me wide eyed and wandering with an ear to ear grin. I live for funky break beats and spreading the love.