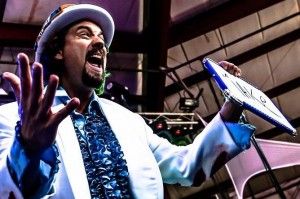 Why You Should Go: THE EVERYONE ORCHESTRA conductor/founder Matt Butler has taken its participants on improvisational journeys with the most diverse of lineups at festivals, theaters and philanthropic events both nationally and internationally. A laundry list of hundreds of musicians, dancers, singers, guest conductors and community organizations have embraced the experience of EO in single shots of musical adrenaline to the soul. Tuning in to his energy, the band and audience utilize The Conductor as their pivot to the set mood of each passing jam as he communicates with the musicians using hand signs, whiteboard and assorted mime suggestions.
Marching clearly into uncharted territory, The Everyone Orchestra balances the challenges of live group improvisation with triumphant tension and release conduits of music which head deep into the soul. This unique collaborative of performance deeply encourages and requires audience interaction. The edge of your seat enthusiasm for what is next is the fuel behind the continuous musical experiment of The Everyone Orchestra.  This Saturday at The Oriental Theater the lineup will include Bill Nershi (String Cheese Incident), Tim Carbone (Railroad Earth), Anders Beck (Greensky Bluegrass), Kai Eckhardt (Garaj Mahal), Dave Watts and Jans Ingber  (The Motet).  A great lineup for what is sure to be a great show!
Venue:  Oriental Theater, 4335 W 44th Ave  Denver, CO 80212  – (720) 420-0030
Doors: 8:00 pm
*Price: $20.00
Buy Tickets
*All prices are gathered from other sources and we are not responsible for mistakes or inconsistencies. They are intended only as guidelines. Please, always call the venue if you desire the most accurate information possible.