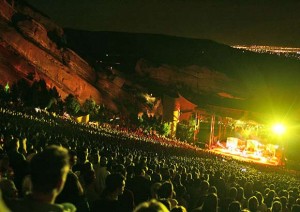 Red Rocks, one of the greatest live music venues on the planet, turns 100 this week and the Denver Post has put together an interesting article about the historic milestone.  Despite the fact that we April Fooled some of you into beliving that this summer would be the last season of shows at Red Rocks, that is fortunately not true, and we have posted the current schedule for the sumer below.  Tickets for most shows can be purchased through Ticketmaster. 
May 28 — The Disco Biscuits, Rusko, Big Boi and more
June 3-5 — Dispatch
June 7 — Earth, Wind & Fire
June 8 — Jethro Tull, with special guest Kansas
June 10 — Ultimate Thriller – Michael Jackson Tribute Concert
June 11 — Big Head Todd and the Monsters
June 13 — Peter Gabriel
June 17 — Ray LaMontagne
June 18 — Bassnectar
June 21 — Willie Nelson's Country Throwdown Tour 2011
June 24-26 — Widespread Panic
July 2 — The Glitch Mob and Lotus
July 3 — Umphrey's McGee – Red Rocks and Blue
July 4 — Blues Traveler, Matisyahu, Toad the Wet Sprocket
July 6-8 — Kenny Chesney, Billy Currington, Uncle Kracker
July 9 — The Avett Brothers with Grace Potter and the Nocturnals
July 10 — Sarah McLachlan with the Colorado Symphony
July 14 — Global Dance Festival
July 15-16 — Global Dance Festival
July 17 — Idina Menzel with the Colorado Symphony
July 18 — Soundgarden
July 23 — Steve Miller Band, Buddy Guy
July 24 — Chicago with the Colorado Symphony
July 26 — Styx, Yes
July 28 — Train, Maroon 5, Gavin DeGraw
July 29 — O.A.R.
July 30 — Abba the Concert
Aug. 2 — A Perfect Circle
Aug. 3 — The Flaming Lips, Primus
Aug. 4 — My Morning Jacket, Amos Lee
Aug. 6 — Slightly Stoopid
Aug. 12 — The John Butler Trio
Aug. 13 — Pretty Lights
Aug. 14 — Thievery Corporation, Ghostland Observatory
Aug. 16 — Unity Tour 2011: 311 and Sublime with Rome
Aug. 19 — Atmosphere
Aug. 20 — Yonder Mountain String Band
Aug. 23 — Death Cab for Cutie
Aug. 26 — 1964 the Tribute
Aug. 27 — Reggae on the Rocks
Aug. 31-Sept. 1 — Kings of Leon
Sept. 2 — Alison Krauss and Union Station
Sept. 3-4 — Carlos Santana, George Lopez
Sept. 9-10 — Sound Tribe Sector 9
Music has always been a part of my life. It probably all started listening to old Grateful Dead, Peter Paul & Mary, and Simon & Garfunkel records that my parents had, but it wasn't long before they were taking me to concerts like Starship, Crosby, Stills & Nash, and Huey Lewis & The News. I got the bug to write about music after reviewing an Eric Clapton concert for a creative writing project in high school but didn't really take it up seriously until 2002. Since then I have published countless articles in The Marquee Magazine and done some work for Jambase.com, SPIN Magazine, and various other outlets. I started Listen Up Denver! as a way to share the music information that is constantly spilling out of my head with people who care. Please enjoy!