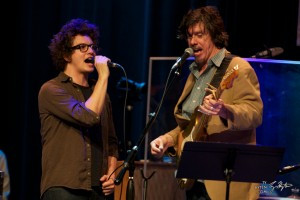 Photos by Ty Hyten
The Scene: Every time I catch a show at eTown Hall I can't help but feel like I'm going to church on a Sunday morning. A good amount of this probably due to the fact that eTown Hall is in an old church building but the community feel of the venue also contributes to that feeling. You're greeted at the door by volunteers who always direct you with a smile to the basement, where an older crowd, most in their 50's & 60's stood around mingling over microbrews and band merch before heading upstairs to sit ever so quietly for a radio recording that will be heard by over a million listeners across the country when it airs.
The evening began with the recording prep – applause levels taken and introductions made. For a first time guest of eTown this can be kind of exciting and for some reason it still gets me every time. The show began with indie, soulful rock music of Seattle's Pickwick who kicked things off with a falsetto rich cover of Richard Swift's "Lady Luck" which features Sharon Van Etten on the record, but still sounded great with her missing.  As always with eTown Hall, the sound was absolutely perfect. I have no idea what kind of magic went into setting up that room or who's on the soundboard, but it's always notably clear, balanced, and full. It wasn't until the second song, "The Round" from this year's critically acclaimed Can't Talk Medicine, that singer Galen Disston's voice really grabbed me. Hearing the howl of his voice live is how he's meant to be heard. He doesn't miss a note throughout his wide range and there's just some lovable element to the timbre that I didn't fully catch on the album.
Pickwick's first two songs were followed by an interview with eTown host, Nick Forster. The band touched on self-recording their album in their wooded home/studio in Washington that they refer to as Endor (home of the Ewoks in Star Wars). They mentioned that their band functions through going to band counseling, which is a pretty funny concept, but apparently a very Seattle thing to do according to Disston. They also elaborated on their name, which comes from the Pickwick record label where Lou Reed once worked as a house songwriter but I'll let you catch the entire story when the program airs. After the interview the band played a roaring "Brother Roland." There's a powerful void in much of their music, a driven, non-cluttered simplicity.
The next musical guest was, and occasionally still is, the frontman of the Subdudes, Tommy Malone. Tommy's return to the program was noteworthy as he was a guest on the very first eTown recording back in 1991. For Wednesday night's show Tommy was backed by the eTones, the talented group of house musicians, which includes the hosts, Nick & Helen Forster on various stringed instruments and vocals respectively. Tommy started his set with a bluesy song about his hometown of New Orleans, appropriately called "Home." Throughout the night it was fun watching the warm interaction between Nick and Tommy. They'd smile and trade licks on the guitar, and when they spoke they sounded like old friends. During Tommy's interview he spoke in detail about growing up in New Orleans and his early experiences in music. Tommy spoke with this mischievous good 'ol boy southern flare that you can't help but like. After the interview Tommy went back to playing and showed the audience what he called his "Cajun teleprompter" which was a large piece of paper with lyrics and chords written on it. Both he and Nick were killer on guitar, an element that I'm not sure I'd say was missing from Pickwick's set, but was definitely not present. Tommy's bluesy songs were really enjoyable. His new solo album Natural Born Days comes out June 18th.
The evening wound down with Pickwick returning to the stage for the soaring vocal line and ooh's  of "Hacienda Motel." Disston let the audience know we were free to stand, but it didn't seem to take hold until they played absolutely bad-ass versions of "Halls of Columbia" and "Window Sill" which got the congregation up on their feet. The culmination of those two songs was definitely the high water mark of the evening, with high energy exuding from the guys. The night  ended in traditional eTown fashion with both acts, the hosts, and the eTones playing a cover together. Their choice was the timeless Bob Dylan singalong "You Ain't Goin' Nowhere."
It was another great night in eTown. I went into the show as a casual fan of Pickwick and left a proponent. So if I haven't told you already – you gotta see these guys next time they're in town!
Pickwick
Energy: A
Musicianship: B+
Sound: A+
Stage Presence: A
Set/Light Show: B
Overall: A
Tommy Malone
Energy: C+
Musicianship: A
Sound: A+
Stage Presence: B
Set/Light Show: B
Overall: B