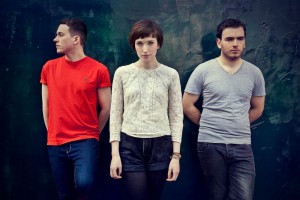 The Scene: Larimer Lounge was swarming with people for Daughter's sold out Monday night show last week. A younger crowd daunting flannels and peasant dresses, many with "X's" marked on their hands, filled in around the small stage creating a very intimate ambiance. The downside to the tightly woven audience had to be the humidity; either the air conditioner broke down or the venue was just that packed. Luckily the back door to the patio let in some breeze but those who chose to take in the view from the very front of the stage had to brave the muggy conditions.
Opener: Jeremy Messersmith.  The one-man band, Jeremy Messersmith, sang his harmonic indie melodies to a calm crowd. I don't believe his intention was to necessarily liven up the audience for Daughter, because at one point he referenced his EP by saying: "I wanted to write really chill music you could fall asleep to. Maybe I succeeded too well." He started strumming then interjected, "Does anyone actually know any of my stuff?" to which a handful of people reacted. Messersmith had the soft sounds of Elliott Smith, soothing voice of Sufjan Stevens, and the whistle like Andrew Bird. Some note worthy songs I recommend checking out: "One Night Stand," "Love You to Pieces," and "A Girl, A Boy, and a Graveyard."
Daughter: After a relatively long break between bands, the British Indie Folk group, Daughter, came on stage. The crowd seemed like it doubled in size and many of the loud people in the back were quickly shushed.
Elana Tonra's voice was as hauntingly beautiful as her recordings. What you hear is what you get, only with much more emotion. She was joined by her drummer, Remi Aguilella, her guitarist, Igor Haefeli, and a guest bassist/keyboardist. The lighting, or lack there of, for this show was underwhelming, but most Larimer Lounge shows have simple sets. That's just the scene—intimate, simple, and purely about the music.
One of the first songs, "Candles," had many girls swaying with their eyes closed and initiated a sing-a-long throughout the audience.  The next, "Love," was a love song coated in jealousy and resentment. The popular single, "Landfill," followed. Elana's style is very interesting because her sound is so soothing and pleasant, but many songs are filled with angst and grief. She grapples with her feelings through both beauty and frustration and one can definitely sense that in her live performances. Her stage presence cannot be described by anything other than awkward, nervous, and giddy, but once she started singing, you could tell that this was her comfort zone. Other notable songs performed were "Run," "Human," "Smother," and of course, "Youth," which was a personal favorite.  As everyone danced together Elana belted her notes louder than any other song, the band jammed out the hardest, and best of all the lyrics stirred up so much emotion that it could be felt hanging in the air around the venue: "And if you're in love, then you are the lucky one/'Cause most of us are bitter over someone/Setting fire to our insides for fun/To distract our hearts from ever missing them/But I'm forever missing him."
The song to end the set, "Home," was one I hadn't heard before. The crowd chanted with Elana as she sang out "Take Me Home," almost as a plea of desperation—no one wanted her to stop. The encore, although not particularly energized, was very unique: a cover of Bon Iver's "Perth" directly followed by "Ready for the Floor" by Hot Chip. Both versions were calmer and softer than the originals but they made for a good summary of the night. Overall, Daughter's performance was poignant, evocative, and simply beautiful.
Energy: B+
Musicianship: A-
Sound: B
Stage Presence: B+
Set/Light Show: C-
Overall: B+

Lindsay was born in Georgia, raised in Florida, and moved to Colorado when she turned 18. All Lindsay asks for in life is music, hoppy beer, and the written word. The necessities of family, friends, water, and food naturally follow.