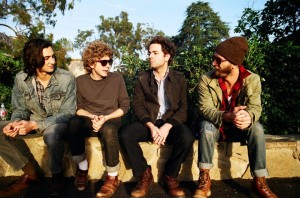 Why You Should Go: It's been decades since the Southern California sun first breathed life into the Americana-laced rock of acts like The Byrds, The Eagles, Poco, and Jackson Brown in the late '60s and '70s. While there has been resurgence of that sound in recent years, one L.A. band has emerged head and shoulders above the rest to carry on the legacy that McGuinn, Henley, Frey, Brown and others helped to define. That band is Dawes.
While the city of Los Angeles has been both an inspiration and a home to the four members of Dawes, they found themselves traveling East last fall to record their third album in the Blue Ridge Mountains of North Carolina with newly enlisted producer Jacquire King. It was a chance to hunker down and work each day for a month away from familiar landmarks and routines. The tracks they laid down at Asheville's Echo Mountain Studio have yielded a 12-song disc of tremendous sonic and narrative clarity, book-ended in classic album fashion by two very different versions of the wistful "Just Beneath The Surface" – a misleading title, really, since the songs stacked in between dig so deep. Stories Don't End is not so much a departure from the quartet's previous efforts as a distillation of them. It spotlights the group's maturing skills as arrangers, performers and interpreters who shape the raw material supplied by chief songwriter and lead vocalist Taylor Goldsmith into an artfully concise and increasingly soulful sound.
Goldsmith and the rest of the group, Wylie Gelber, Griffin Goldsmith, and Tay Strathairn will make a stop at the legendary Mishawaka Amphitheatre this Friday May 24th before heading over to The Gothic Theatre on Sunday May 26th.  The band is fresh off a performance on Jimmy Kimmel Live and are launching an American tour to support Stories Don't End.  With two chances to catch this buzzing band on the front-range missing these guys is not an option.
Venues:
Mishawaka Amphitheatre 13714 Poudre Canyon Highway
Bellvue, CO 80512
Gothic Theatre 3263 South Broadway, Englewood, CO, 80110
Doors:
Mishawaka Doors: 6:00 pm Show: 8:00 pm
Gothic Doors: 7:00 pm Show: 8:00 pm
*Price:
Mishawaka: $25 ADV / $28.50 DoS / $40 VIP
Gothic: $20.00 ADV / $25.00 DoS
PURCHASE MISHAWAKA TICKETS
PURCHASE GOTHIC TICKETS
*All prices are gathered from other sources and we are not responsible for mistakes or inconsistencies. They are intended only as guidelines. Please, always call the venue if you desire the most accurate information possible.