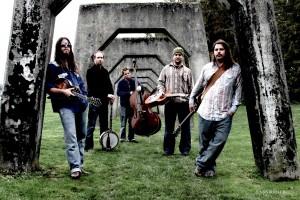 They have been on the scene for more than ten years now, but since the release of their acclaimed album, Five Interstates, in 2008 Greensky Bluegrass has become the focus of some serious national attention.  Hailing from Kalamazoo, Michigan, the band is touring incessently and getting to share the spotlight at huge festivals like Bonnaroo and Hangout alongside bands like The Foo Fighters, Arcade Fire, Widespread Panic and Paul Simon. Greensky will be making a stop at The Bluebird in Denver on May 19th before heading up to headline the Waterfront Music Festival at Mishewaka Amphitheatre over the weekend. Listen Up Denver's Levi Macy had the pleasure of speaking with their bass player Mike Devol right after their recent sold out show at Planet Bluegrass and he was nice enough to answer a few questions and reveal some information about bands upcoming album and their love for Colorado.
Listen Up Denver!: We love having you guys out here in CO. It seems like you must spend most of your lives on the road with a relentless tour schedule. Where are your favorite places to play around the country?
Mike Devol: Well honestly, and I'm not just saying this because you are interviewing me, but we enjoy playing in Colorado. We've been playing there for a few years now and love it out there. We actually just left Lyons where we played a show on Friday night.
LUD: That was in the Wildflower Pavilion at Planet Bluegrass, right? How did you like playing there?
MD:  It was beautiful. We sold it out a week in advance and it turned out to be a beautiful weekend. It was a fun show. We are actually on the road right now heading to Michigan. Then we will be heading back to Colorado next week for our show at the Bluebird on the 19th. Hopefully Colorado knows we're coming back.
LUD: We are looking forward to it. Speaking of your show on the 19th; I know you guys work, and are friends with, a lot of Colorado Musicians. Is there any chance of some local sit-ins?
MD: Honestly, it just depends on who's in town. We've got a lot of friends in Colorado so I'm hoping that those who aren't on the road themselves will stop by, but there's really no telling.  Hopefully they'll come and hang out.
LUD: I've heard there is a new album on the way. Is this true? What information can you give me about it?
MD: Yes! It's called Handguns. We recorded it in Michigan during the last two weeks of January this year. Its mixed, mastered and currently in production. We are still working on our promo campaign, but it should be out this summer.
LUD: I know you worked with Tim Carbone from Railroad Earth on your last album. Did he give you guys a hand on this one as well?
MD: No, not this one. He produced our last two albums.  This time we brought in a few friends for another ear but in the end decided we were going to produce it ourselves. We sort of just kept it between the five of us. We took it to Glenn Brown who does the mastering for basically all of our recordings.  We recorded somewhere around 100 hours in 8 days with no outside producer.
LUD: Did you bring in outside musicians for the new album?
MD:  We had a few of our friends from Michigan come in and do a few odd jobs on the album. There is a big trove of folk, roots, and rock musicians in Michigan that we have become friends with through the years and from our college days. We had a few guest vocalists come in and even have a horn section on a track. For us, making an album is an entirely different experience from our live performance. We like to have the options to do things that we can't throw into our live shows. It's also great to involve some of our talented friends. We love just having them stop by and contribute little parts here and there. We are all really excited to release this album. Our last studio album was released in 2008 and since then we have released two installments of a live series we are doing called "All Access." I'm excited to get new material out.
LUD:  You didn't always play the bass. I read somewhere that you actually got into music with the Cello. Are we going to hear it on this new album?
MD: I did, but we didn't use it on this one. We used it on the last two studio albums we did. I brought it to the studio thinking there might be some place to use it but when we got to the last day the album already seemed good to go.
LUD: You picked up the bass when you joined Greensky Bluegrass. What sort of influences and musical background did you come from?
MD: I studied and performed classical music through my early 20s. As a kid I was into alternative rock, or whatever you want to call it. None of us really come from a bluegrass background. A lot of us got here through jam bands and the Grateful Dead. We all just sort of found a common ground in this New-Grass style.
LUD: When you started with Greensky back in 2004, did you ever imagine you would make it to where you are today in the matter of 6 years?
MD: No, I didn't. As a classical performer I never imagined I would be a part of a touring band. I was finishing my classical cello degree and became friends with Greensky through the scene in town. I wanted to do something with music business instead of going into classical cello performance. I started handing out flyers and doing promo around Kalamazoo. Greensky's bassist at the time had a full time job and a family and wasn't able to travel and tour. So, I switched from cello to bass. When I first started we really had no idea how far we could get. Now at this point we do almost 200 shows a year and we could have never foreseen this. At first things were really gradual and in the past few years it has began to come together really well. It's like travelling is all we know right now. It's nice when we get to head back home because it's almost like a vacation.
LUD: That's more than a show every other day. On top of clubs and small theaters, you guys play a lot of festivals. Do you prefer the festival setting or the intimate venue?
MD: Personally, I enjoy playing the festivals more. I like having the chance to go see bands and artists that I like. It gets hard when travelling so much to get out to a show of a band I enjoy. We will be playing 2 afternoon sets at Bonnaroo this year. I think that is going to be really cool, I've never been there before and to have all access for 2 days is going to be a lot of fun. We are also playing another big festival in Alabama called Hangout [the day after the show at The Bluebird]. We will be there for a day and hopefully get to see My Morning Jacket. Then we hop on a plane and head right back to Colorado for the Waterfront Festival at Mishawaka outside of Fort Collins.
LUD: What do you think the future has in store for Greensky Bluegrass?
MD: We feel like we have momentum and we are really excited about this new album. Right now the name of the game for us is playing as many shows as possible and trying to stay relevant.  It seems the more shows we play; the more things open up for us. I just hope we are able to keep playing and having fun on the road because from that we have more experiences to write songs. I guess the plan is to just keep doing what we are doing. If we keep at it we are sure to get bigger and better.

I rode my skateboard from school in 7th grade to my buddy Vince's house where he put on the song "Perfect Government" by NOFX and I was hooked. The next day I bought the album Duh by Lagwagon. The next year I saw Against Me! at the Starlight Theater in Fort Collins, my mom dropped me off. I've since devoted every waking hour to anything done with passion. My speakerbox bumps everything from Lil' Wayne to Pablo Casals. I was never very good at making music, but I am damn good at listening to it. I've been filling up yellow notepads with random thoughts and misspelled words for as long as I can remember. I enjoy whiskey of all sorts, Newport cigarettes and the company of my family. I've got an addiction to run-on sentences that I'll probably never cure. A solid handshake with a stranger who has become a friend over a few beers means the world to me. You'll often find me wide eyed and wandering with an ear to ear grin. I live for funky break beats and spreading the love.