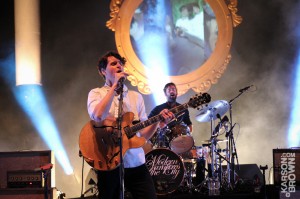 Photos by Karson Brown
The Scene: Colorful umbrellas and rain ponchos dotted the seats at Red Rocks Amphitheater last Monday when a chilled out, pleasant mix of young hipsters and middle aged business types turned out to see the co-headlining show with Of Monsters and Men and Vampire Weekend.
Of Monsters and Men: Hailing from Iceland this six-piece Indie/pop hit-making band did not disappoint. They offered an impeccably executed set with international favorites like "Little Talks," "Mountain Song" & "King and Lionheart" from their debut album My Head Is An Animal. The authentic group was adorable looking but reflective and thoughtful sounding. The drenched onlookers sang along, pranced around in rock-lined aisles and showed undying adoration as they waved Icelandic flags.
OFMAM seemed humbled by the crowd and the incredible scenery that surrounded them. Though at times they did seem timid and a bit introverted, this proved to be an endearing quality of the somewhat mysterious collection of characters. The crowd was surprised when lead vocalist Nanna walked into the front row high fiving a few soggy fans.
Vampire Weekend: Where has Vampire Weekend been since releasing their 2010 album Contra? They've been hard at work on their much-anticipated third album Modern Vampires of the City released earlier this month.
With a minimalist approach to the set and lighting it seemed to establish the tone for the night. Vampire Weekend came to play, and that they did. Fans never sat down (maybe because the wooden benches were soaked through) and they seemed to hang on every lyric. Fan favorites like "Cape Cod Kwassa Kwassa" and "A-Punk" had the crowd was entranced but Vampire Weekend also debuted what is sure to be a new collective favorite; "Obvious Bicycle."
Good-humored frontman Ezra Koenig possesses a new age mix of Paul Simon and something else a little more sinister that I can't quite put my finger on. Koenig and the gang were engaging, playing virtually non-stop and with a great big grin. They're back and clever as ever.  That's what makes this group seem timeless, they appeal to so many while still staying true to their unique sound and quality.
Energy: A
Musicianship: A
Sound: A
Stage Presence: B+
Set/Light Show: A+
Overall: A
Karson Brown is Colorado native, local concert photographer and travel photographer. An Art Institute of Colorado gradate, she has a strong background in photography and design. With a passion for nearly all genres of music, Karson has the vision and love for performances which is infused in her written word and photographs. Karson's connection and roots in Colorado keep her grounded and involved in local events and concerts.