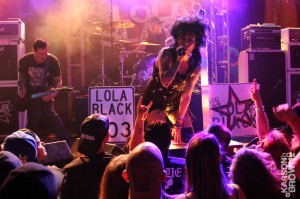 Photos by Karson Brown
The Scene: The nearly full Bluebird Theater was packed with fans drenched in black waiting to see The Dreaming and Lola Black last Thursday. There has been a lot of talk about headlining act Lola Black for several years now and I just had to see what all of the hype was about. I thought I would find myself among a pack of Hardcore/Punk badasses. However, what I found was a pretty mainstream group of people ranging in age from late 40's to a couple 10 year olds who were right upfront, one with an outstanding red Mohawk. The show was shaping up to be an interesting one.
Opener: The Dreaming. There seemed to be a big following for this band from Hollywood. Fans all round me were buzzing about this group with lots of black hair and black eyeliner. The Dreaming played an assorted set and one the seemed to grab the attention of those who were unaware of their existence. In other words, they impressed me. One song in particular that was executed incredibly was the cover of Adele's "Set Fire to The Rain."  They delivered it in a hard and obscure way; it was unexpected but totally invigorating.  The Dreaming also covered another popular hit, from a few decades past, "Send Me An Angel" featured in the 1986 movie RAD.
Let me be clear, they are not a cover band and they have a lot of time and success under their mutual belts. The friendly and engaging front man, Christopher Hall, co-formed the Hard Rock group Stabbing Westward in the late 80's recording and releasing several studio albums in the 90's and early 2000's. Although they did play a heavy set of The Dreaming songs including "Ugly" and "Puppet," they also kept reverting back to old Stabbing Westward songs. They closed the night with "Save Yourself," a popular Stabbing Westward hit. The fans didn't seem to mind the transition between the two worlds, it seemed as though they were expecting the best of both, past and present.
Lola Black: The band appeared from the black of stage right. Lola herself immediately seemed like a force to be reckoned with in her 6-inch platforms with spikes, fishnet stockings and the blackest teased hair you've ever seen tangled right on top of her head. Her fans flaunted real Mile High love for this hometown group right away as Lola Black made their way out.
The name of the band itself is a little misleading. The entire band IS Lola Black, not just one drop dead gorgeous female singer and a back-up band. No – this is a veteran band with tons of talent, years of experience and exposure to the Denver punk scene. Lead singer and front woman Lola – is just Lola (no last name), they are ALL Lola Black, the band.   
Lola Black struck the crowd in the face with the giant brass knuckle mic stand, tons of defiance and when they said "hello" by giving us all the bird we viewed it as a sort of term of endearment. Lola's voice had a thick, raw sound. The interlaced mix of influences such as Gwen Stefani (circa 1995), Joan Jett and Pat Benatar (if Pat could do that freaky deep throat scream that is common in hardcore music) could be heard in nearly every song in the set like in "Better Left Unsaid" and "Hated." The band had a distinct sound, which was a cocktail of the best of pop/punk music in Lola's piercing edgy vocals and the bands melodic riffs and heavy thunderous drums.  The distinctive sounds collided together in the best song of the night and the latest hard hitting song "Burracho" from their latest album Dia De Los Burrachos released in 2012.
There were times throughout the set where it felt like there should be a little more pizzazz from Lola herself. She did connect well with the crowd up front, coming to down to sing virtually face-to-face with many of them, but there lacked a real enthusiasm and that "ready to party" feel throughout the show. Maybe it was because The Bluebird is a smaller venue, who knows – but that is something that can make or break a newbie to the scene. Concertgoers want to have that memory of new music coupled with an awesome show. If the show isn't exciting or genuine feeling then the music won't matter.
The overall sound of Lola Black is alluring and casts a pretty wide net. Many different types of people could and DO like what this band has to offer. Some of their songs are fun, reckless and ready to brawl while other songs are introspective and thoughtful. I found out fast why there seemed to be such a surprising mix of fans.
Energy: B-
Musicianship: A-
Sound: B+
Stage Presence: B-
Set/Light Show: C
Overall: B-
Karson Brown is Colorado native, local concert photographer and travel photographer. An Art Institute of Colorado gradate, she has a strong background in photography and design. With a passion for nearly all genres of music, Karson has the vision and love for performances which is infused in her written word and photographs. Karson's connection and roots in Colorado keep her grounded and involved in local events and concerts.