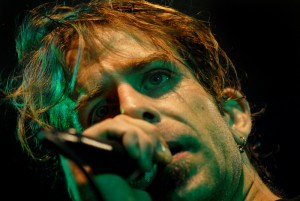 Photos by Todd Radunsky
The Scene: Last week brought a rare scene to The Boulder Theater, as it was jammed with devoted, high energy heavy metal fans, Lamb of God fans in particular.  Boulder isn't exactly know for its heavy metal scene, but metal fans of all ages and sizes came out in full force fans on Wednesday night to enjoy a night of head banging and moshing with LOG.  It was that and much more as for even just a second, I feared for both my safety, and the safety of those around me.
Lamb of God:  "Holy SHIT, that was insane!" Those were the words of a random, heavily tattooed, Lamb of God fan who stood in the front row at last week's LOG show in Boulder.  What's crazy is the fact that  I heard her say this after only about 2/3rds of the band's very first song.  You might be asking yourself,  "How could he overhear her say this over the bands loud, slashing, pounding, style?"   Well the fact that there was no music being played made it a lot easier.  That's right, after about 2/3rd of a song, lead singer Randy Blythe had the good sense and dare I say "balls" to stop the show dead in its tracks without finishing the shows crushing opener "Desolation."
By now many people know about the 2010 incident in Prague involving LOG lead singer Randy Blythe.  For those who don't, Randy was acquitted of manslaughter charges for the death of a fan who jumped on stage during a LOG concert in Prague.  Since then, Randy has written numerous posts and open  letters to fans, promoters and venues stressing the importance of venue and concert safety.  You can tell he genuinely cares about concert goers and what happens to them, especially at one of his band's shows.
Fast forward to last week when Lamb of God came on stage to an absolute insane asylum of psyched up, adrenaline filled fans at the Boulder Theater.  Just moments before, the entire venue was chanting "LAMB OF GOD! LAMB OF GOD! LAMB OF GOD!" and when the band emerged from the shadows, screaming fans put up their hands up in the traditional heavy metal salute, forming "horns" with their fingers.  As fast as they came on stage, LOG slashed into what turned out to be a truly crushing opener.  Chris Adler's thumping drum intro into Blythe's sinister, throaty voice mixed with the pounding bass of John Campbell and super aggressive, ripping licks of Morton and the band had the entire venue in "off the HOOK" mode instantly.
Within seconds a mosh pit formed at the back of the main floor.  People were running head long into one another and smashing each other with full force, only to do it again, and again, and again.  Other fans, hundreds of them, started to surge towards the stage as the band ripped through their opener.  The smaller, more fragile fans up front started to become more and more trapped against the barricade between them and the stage, and would soon feel the crushing force of the crazed fans behind them.  In just a matter of seconds the barricade started to bulge under the pressure of surging fans. Some fans had fear in their eyes and were asking security to help them over the barricade before they were smashed any further.   Security did just that.  The situation was dangerous for security and photographers alike who were in-between the barricade and the stage.  If that wall came down, the only way out was to jump on stage if you were quick enough.  Security tried with all their might to hold back the barricade which was approaching a 45 degree angle.
Just as it looked bleek, security and the band worked together to stop the show in mid-song.  Blythe smartly told the band to hold up a second and then told the crowd to do the same thing.  Everyone did.  Blythe then told his fans about what happened in Prague and told them he doesn't want another incident involving crowd safety.  He told everyone to just calm down a minute.  He made sure everyone knew that we were all here to have a good time and to rock as hard as we could, but we would have to do it in a way that no one would get hurt.  Some of the audience cheered with approval.  Meanwhile Boulder Theater security did a great job of giving the crowd water and re-establishing the barricade so that the fans and the band would be safe. Blythe then said "Goddamn you Boulder people are some crazy mother fuckers!" The crowd cheered for themselves while security pushed everyone back a few feet on the main floor so the barricade could be put back in place.  By now we were at about 10 minutes without music and Blythe started telling funny stories about his adventures in a Czechoslovakian prison that involved a freakshow prisoner from Mongolia who couldn't understand much English.  Things were getting surreal.
Finally, after about a 20-25 minute break with no music what-so-ever, the band tore into an awesome version of "Ghost Walking."  Once again the Boulder Theater was turned into Lamb of God's temple with fans going berserk, moshing and head banging to the beat.
It was non-stop like that for the entire show.  The band's boundless energy and hard charging style mixed with the enthusiastic, nearly over-hyped,  crowd made for a true spectacle of metal madness.  This band is here to stay.  They have the talent, they have the sound, and they have the fan base.  Just look at Boulder as a case in point.  When a metal band can play a town that's known for hippies and organic food and still sell-out the Boulder Theater and rock it down as hard as they did, you have to think they've got something special.
Energy: A+
Musicianship: A-
Sound: B+
Stage Presence: A+
Set/Light Show: A
Overall: A
I work in the music industry photographing bands live and offstage for publicity. My work includes shooting concerts, festivals, and portraits of musicians and bands. I shoot for promoters, record companies, publicists, magazines, band managers, and individual musicians. I also photograph weddings, and portraits and have traveled the world to do so. I've shot weddings in Cali, Ireland, Mexico, Cape Cod, and Amsterdam to name a few.