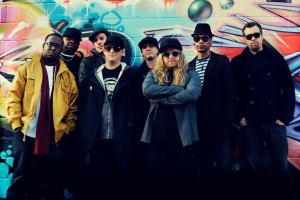 The Scene: Saturday night was alive with the sound of Funk thanks to The London Souls and neo-jazz+funk band Lettuce.  With the intimacy of Cervantes' Masterpiece Ballroom, no venue could have done Lettuce and their fanbase more fair justice.  Fans, friends, and musicians alike were brought together to listen to not one, but two bands that flawlessly combine their old school tastes with their fresh and original styles.
Opener: The London Souls. The London Souls are a rock group whose eclectic and innovative sound combines elements of Jazz, Folk, Reggae, and Funk.  This particular night happened to be vocalist and guitarist Tash Neal's "birthday" – the one year anniversary of his awakening from a coma, caused by a life-threatening freak car accident in New York City.  Saturday was a hugely important milestone for the New York-based band, and the energy bursting from Neal, vocalist/drummer Chris St. Hilaire and bass guitarist Stu Mahan tore through the room as the band took the stage (eventually joined by Lettuce guitarist Eric Krasno).  The trio performed covers of The Who's "Magic Bus" and The Beatles' "Get Back," along with original songs like "Under Control" and "Someday."  The back-and-forth vocals performed by Neal and St. Hilaire created an incredibly smooth and energetic harmony that was both heard, and felt, throughout the entire room. Simply put, The London Souls were the ideal band to start the party.
Lettuce: Sometime around midnight, Lettuce quickly proved that funk is more alive today than ever before.  Bass guitarist E.D. Coomes led the night's improv speech, asking the audience to please "let the funk flow" and "keep the rage alive!"  As an eight-piece band, Lettuce's sound is undeniably electrifying Jazz-Funk that reeks of classic artists such as Tower of Power, James Brown and Kool & the Gang, some of their obvious influences.  The night's setlist included quintessential Jazz tracks such as "Ziggowatt" and spacey jazz-fusion tracks such as "Relax."  This dynamic song catalog created an electric energy that kept the crowd both stimulated and guessing, with Coomes yelling to the audience that "now is NOT the time to relax!"  Later on the group brought out vocalist Nigel Hall for band introductions and an invigorating late-night dance party that left the audience feeling especially groovy and wanting more, more, more.
So, how did Lettuce get their name?  Friends of keyboard player Neal Evans spilled the secret – the group used to go to clubs in NYC asking the owners to please, "just let us play!"  Eventually, the words became a jumble, and Lettuce became their official title.  The name is too fitting, and by the end of the night these two words were crossing everybody's mind – Lettuce, PLAY!  The funk is not only alive but prevailing thanks to this band who keeps it so real, bringing the house down and everything within it.  Lettuce entertain you!
Energy: A
Musicianship: A
Sound: A-
Stage Presence: B+
Set/Light Show: B
Overall: A