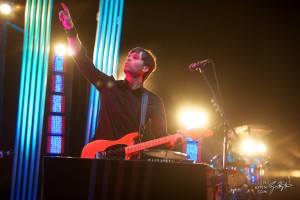 Photos by Ty Hyten
The Scene: A warm nostalgia descended on Red Rocks Thursday night, as anyone who came of age at approximately the same time lives were being changed by the Shins showed up to revisit those overly wrought youthful emotions.  Any wisdom or perspective gained in the ten years since The Postal Service's one and only album, Give Up, can't be confirmed, but a quick scan of the crowd indicated that most had at least conceded victory to the more responsible ideas of fleece jackets, close-toed shoes, and drinking in moderation.  Thankfully, not all exuberance was lost, as a giant glow-in-the dark dream catcher was spotted gently swaying in beat to the pre-concert music, a beacon of enduring optimism bobbing above a sea of what probably was a lot of collective grad-school debt.  The anticipation to look back was high.
Opener: Ra Ra Riot. If an oversized glow-in-the dark dream catcher can be used to ward off bad dreams of the present, Ra Ra Riot was the good juju that followed.  Attached to the same Barsuk label Death Cab for Cutie was once signed to, Ra Ra Riot dispensed it's medicine of danceable indie synth-pop with an added depth and liveliness due to the lovely violinist and keyboardist Rebecca Zeller.   After hearing "Dance With Me" and "Boy," it wasn't surprising to learn that the band has been compared to (and collaborated with) Vampire Weekend, in addition to playing with acts like Passion Pit and Tokyo Police Club.  The five-piece was clearly thrilled to be touring with The Postal Service and were smiling non-stop.  Their energy, combined with lead singer Wesley Miles' charming lilt and acid-washed jean jacket gave the crowd the energy and focus it needed for the task at hand.       
The Postal Service: Apparently Ben Gibbard lost his voice in Utah and the Red Rocks show was almost canceled.  As he noted later, doctors in both Utah and Colorado restored his voice to what Gibbard called a "Tom Waits does Postal Service" type tenor.  As it turned out, Gibbard had nothing to worry about, as the entire Red Rocks audience essentially sang back-up from the very first note of opener "The District Sleeps Alone Tonight" through the end of the show.
Coming out in front of a cathedral-like light set-up, Gibbard sported his trademark overhanging bangs and swinging arms dance, all while wearing a skinny, all-black ensemble.  He, along with band mates Jimmy Tambarello (DNTEL), Jenny Lewis (Rilo Kiley), and another unknown female member, brought an air of sentimentality to the evening without any of the wistfulness that usually accompanies.  You got the sense that Gibbard and company were reminiscing right alongside you too.
As the band churned through "We Become Silhouettes," "Sleeping In" and perhaps the apex of the concert – "Nothing Better" – Gibbard and Lewis sang and danced in sync with each other, face to face, as if they were really just playing for themselves and each other.   "Why does love have to end?" Gibbard asked plaintively, but somewhat coyly. The set wasn't all remembrance, though.  The members of Postal Service are musicians first and it was fun to see Gibbard and Lewis bound about the stage during each song, including Gibbard getting on the drums for "Be Still My Heart."  Tambarello even joined in the festivities, at times playing a melodica, and then autotuning himself on "Recycled Air" to great cheers from the crowd. Lewis took over on drums for a shout-out to Olympia, Washington on a cover of Beat Happening's "Our Secret", which Gibbard described roughly as "the greatest band to ever come out of Washington."  Describing "Our Secret" as purposefully lo-fi is an understatement, so the Postal Service's sweet rendition of the song left it almost unrecognizable.
Naturally, "Such Great Heights" ended the set, and the crowd pulsed up and down singing loudly about the now famously aligned eye freckles.  Gibbard took to the rails on the floor to say good-bye, expressing his gratitude that "people still care about this album 10 years later."  Of course, they eventually came back for a two-song encore, leading the audience into a repeat chant of "everything will change" from "A Brand New Colony" before departing the stage for good. An appropriate ending as the dream catcher floated off into the night.
Energy: A+
Musicianship: A+
Sound: A
Stage Presence: A
Set/Light Show: A
Overall: A
Patty is a Washington State native that was lured to Colorado by the sun and the mountains. When not listening to music, there is a pretty good chance she can be found eating ice cream.