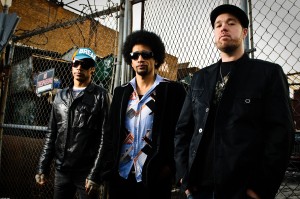 Why You Should Go: Over the past 12 years, Soulive has covered a lot of ground – musically and literally.
The band has traveled to nearly every corner of the world, touring Ghana, Russia, nearly all of Europe, Brazil, and Japan (nine times!). They've been across America on dozens of tours. New Orleans Jazz Fest has become a home away from home. And in their actual home, New York City, they are closing in on their 100th show.
Not many bands can say they've recorded with Chaka Khan, Dave Matthews, Talib Kweli and John Scofield. Nor can many bands open for The Rolling Stones on one tour and have Stevie Wonder sit in with them on the next tour. The musical relationships the band has developed, from the aforementioned artists to Derek Trucks, Susan Tedeschi, Robert Randolph, Joshua Redman, Kenny Garrett, Fred Wesley, The Roots, Ivan Neville and so many others, speak volumes about both how versatile these talented musicians are. Jazz, hip-hop, rock, soul, funk, R & B, Blues – musically, there is not much the band hasn't done.
In developing their own history, Soulive has been in the company of legends both new and old. In 2000, Bruce Lundvall signed the band to Blue Note Records and Soulive became part of recorded music's greatest jazz legacy. Soulive joined the ranks of Miles Davis, John Coltrane, Jimmy Smith, Wayne Shorter and Grant Green and was part of the niche label's rise as Norah Jones captivated the nation. Six years later, Soulive would be the first band signed to the new incarnation of Stax Records, joining the incredible soul tradition built by the likes of Isaac Hayes, Sam and Dave, and Otis Redding.
Soulive has always been creatively restless, never content to ride a sound (or a look) for too long. The band has led their fans through many incarnations: both male & female singers, a horn section, and repeated returns to the trio format. The band and the fans have endured, grown and morphed. Consistent through all of the different line-ups, though, was the groove – Neal's club-shaking left hand pounding out bass lines, Alan's ride propelling the music forward, and Eric's solos soaring on top. Every show has that moment where Neal leans on the organ up high and the whole band breaks free. Every Soulive fan knows that moment. That is something that has never changed.
Venue:
Cervantes Masterpiece Ballroom, 2635 Welton Street, Denver, CO 80205 – 303/297-1772
Doors:
8:00 PM
*Price:
ADV – $20.00
DOS – $25.00
2 Day Pass – $35.00 Buy
*All times and prices are gathered from other sources and I am not responsible for mistakes or inconsistencies. They are intended only as guidelines. Please, always call the venue if you desire the most accurate information possible.

Music has always been a part of my life. It probably all started listening to old Grateful Dead, Peter Paul & Mary, and Simon & Garfunkel records that my parents had, but it wasn't long before they were taking me to concerts like Starship, Crosby, Stills & Nash, and Huey Lewis & The News. I got the bug to write about music after reviewing an Eric Clapton concert for a creative writing project in high school but didn't really take it up seriously until 2002. Since then I have published countless articles in The Marquee Magazine and done some work for Jambase.com, SPIN Magazine, and various other outlets. I started Listen Up Denver! as a way to share the music information that is constantly spilling out of my head with people who care. Please enjoy!