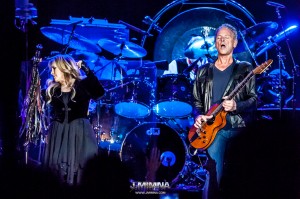 Photos by Jim Mimna
The Pepsi Center played host to rock royalty, Fleetwood Mac, last weekend.  The 47 year old band is currently touring in support of their latest album, Extended Play, covering 34 cities on the ride.  With Lindsey Buckingham, Stevie Nicks, Mick Fleetwood and John McVie firing on all cylinders, the band delivered a marathon 2 and half hour show (not bad for aging rockers) that was chock full of the hits you know and love.  From "Rhiannon" to "Landslide," they played them all.  We were on hand to document the proceedings so you could enjoy this photo essay.
Setlist: Second Hand News, The Chain, Dreams, Sad Angel, Rhiannon, Not That Funny, Tusk, Sisters of the Moon, Sara, Big Love, Landslide, Never Going Back Again, Without You, Gypsy, Eyes of the World, Gold Dust Woman, I'm So Afraid, Stand Back, Go Your Own Way
Encore: World Turning, Mick Fleetwood Drum Solo, Don't Stop
Encore 2: Silver Springs, Say Goodbye
Capturing life in various forms is what I do. I consider myself an archivist by nature. It is not a career choice that I consciously made, but it is something that has called me. I strive to freeze a moment in time with every frame, a moment that can retell its story with each viewing, forever. I also have a deep passion for music and have been photographing and recording live music for years. Capturing the energy and magic of a live performance in a photograph is one of my passions. In addition, I enjoy photographing in a wide variety of settings, from wildlife scenes to family portraits and everything in between. I am a lover of the earthscapes that we see all around us every day, both natural and manmade, and aim to make unique images that do justice to their beauty. Where others see darkness, I see streaks of light through long exposures. I shoot a very wide variety of subject matter including individual/family portraits, event coverage, landscapes, live concert/performance, HDR, product and commercial photography, architectural, weddings, food, and editorial photo journalism. With artistic expression, I aspire to create visual art that speaks volumes.